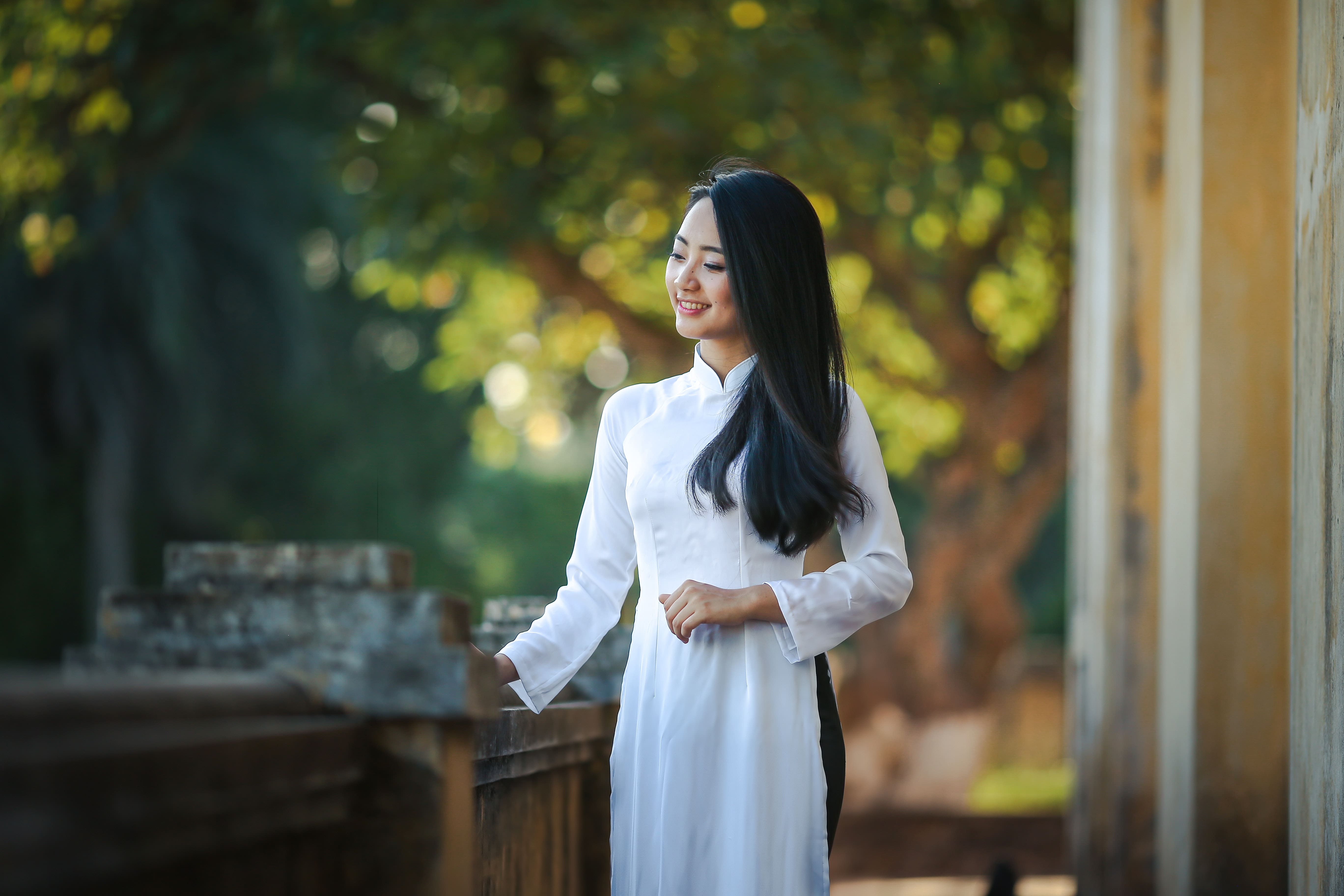 Ho Chi Minh is a very graceful lady with long flowy hair. You'll be surprised at her perfect complexion which flows into her beautiful curves, traced delicately by her Aoi Dai, in a soft tender blanc silk fabric. The slits cut elegantly to her waist where you could see a tinge of her flesh sometimes when the Ao Dai flutters playfully with the winds.


I could see how she got a little bit of a Korean touch, it must be the Hallyu waves that hit her during this phase of her life. Her natural look makes up finished a the faint but bright pink lips, yet her eye lips are painted with galaxy hues of purple.
She walks with a perfect body form as if a pageant model but in all honesty, she's only just a simple girl who helped out her family business.
And she takes her family out for dinner twice a week.
It's funny how she can be graceful even without trying.
She's a little tanned probably because she rides her bike around all the time.
A humble scooper that wheezes reluctantly at the turn of her keys, she kicks off bringing me with her onto our journey.


The Saigon River, however, gave me a bit of a mixed feeling due to the smell, but they are always beautiful to look at. Peering over at the cityscape, the beautiful commercial buildings look like glass trophies as they stand out amongst some of the wastelands. Some parts of here are, unfortunately, not/much less developed. I guess the income gaps stretched pretty far around here too.

Sitting on her back, I noticed how the beautiful her Ao Dai sway with the wind. I could see several districts laced out on her Ao Dai, each etched out carefully and skillfully by the tailor as if forming an unseen pattern that brings about the hidden beauty of the district. It is strangely hypnotizing as I could see the beautiful Japan town around District 1, Expat area in 2, Korean town in 7, the Chinatown area in 5 and 6 and so forth. I could see a bit of the tattoo across her neck when the wind part her hair, seeing the roof of 42 Nguyen Hue. I also began to notice the mantra of 14 Ton That Dam engraved across her wrist in gentle cursive.

Her floating temple charm that dangles on her motorcycle keys. She had her bag strapped through the front compartment of the bike where I noticed some postcards that were halfway out too. I never know we both would share the same love for snail mails.


We went for all kinds of food together, where the bizarre Banh Mi Op La caught my eyes. I love how we sat by the roadside store, while motorcycle zips occasionally through the narrow walkway. The Banh Beo Hue struck me the most as it doesn't look appetizing but it is strangely delicious! My taste buds couldn't believe themselves.

She made tea for me later that evening, and told me more about her culture, how her personality, like the traffic, is in an organized mess, how she has insomnia too, and how behind every face lies a story so deep that seeps through inside.
We explored abandoned buildings with beautifully lit neon lights, walk across streets and town, drank a bit of the beer by the pool deck and as nice as she is, accompanied me to art museums to get my fix of arts, and did I forget to mention that her coffee hits really hard?


With this, we bid farewell after a short 5 days.
I'll definitely miss Ho Chi Minh, strangely a lot more than I thought.
I'll miss her walking around the streets with her body held high, in this strangely perfected posture, and how she could weave around traffic effortlessly with her cute scooper.


I'll see you, again. Soon.
P.S. We still keep in touch and play online mobile games together whenever she's free. If you have to know, her game ID goes by the name of SAIG0N (Saigon).