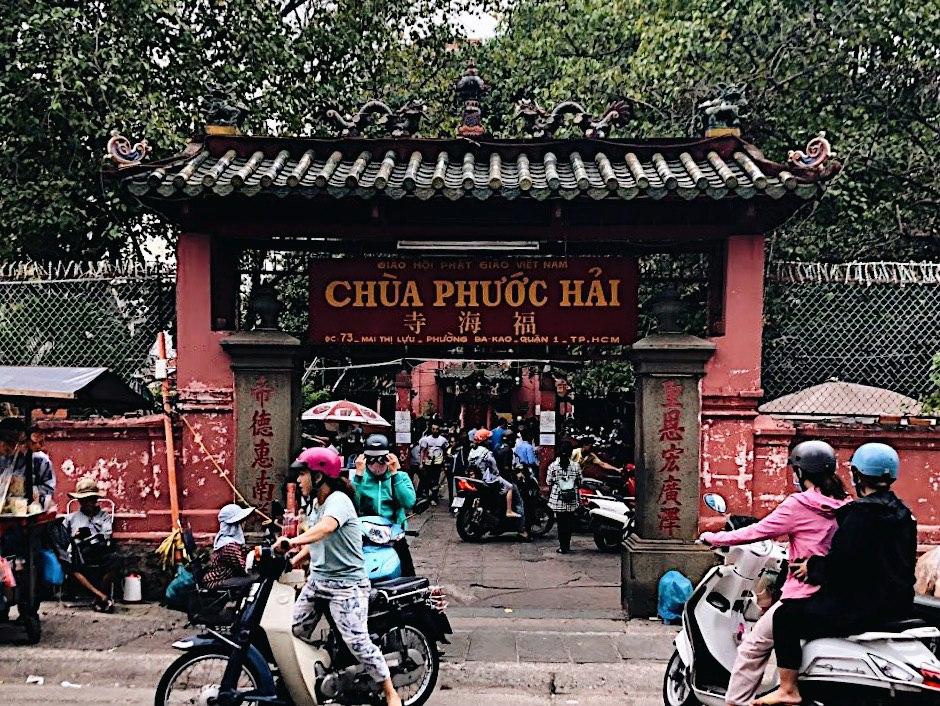 Chùa Phước Hải (Jade Emperor Pagoda)
Sitting at the outskirts of district one, the Jade Emperor Pagoda is indeed one of the hidden gems here. We decided to push up our schedule and checked this out early when San-Art is closed. This old temple comes with beautiful architecture and it's also brimming with crowds. Locals, especially students came here to seek blessings from the deities here. The temple is larger than we think right after we pulled up on the right side where we parked our bike.
In the middle stood a huge space where people offer joss sticks to the heavens and right behind us a huge brick-constructed pond where it held several gigantic catfishes. They are huge, full to overgrown definitely, as they swirl around gracefully like celestial creatures that are not from here. There are locals chilling by the pond area, using their phones nonchalantly and oblivious to the crowd. There are also several football-size tortoises crawling in a fenced up area at the sides. Children have their hands and face pressed up against the fence as they watched the tortoise in awe.
There are several praying areas, and the praying halls are pretty similar to Buddhist temples around Asia. A corner for joss sticks and incense, several utilitarian non-matching fans stood out over here, giving it a very unique and local touch. It felt like the place is not trying to be "nice", and this gives off a more authentic vibe to grand temples that attract tourists and locals alike.
This is probably one of the two temples that I checked out in my trip over here, though I'll wish to check out more if there is a chance too in the future. There are so many gems around in Vietnam and just in Ho Chi Minh City itself! You could purchase joss sticks or incense if you want, if not you could simply just pray if you like. I muttered a simple prayer for peace and success, and for my family and friends to be happy and healthy before I left. I walked away with gratitude, as I turned back and smiled before walking away, as we head back and call it a day. 
Wait a minute, Barrack Obama had been here before!? 
*
Detail
Name: Chùa Phước Hải (Ngọc Hoàng Điện 玉皇殿)/Jade Emperor Temple
Address: 73 Đường Mai Thị Lựu, Đa Kao, Quận 1, Hồ Chí Minh 700000, Vietnam
(Facebook)