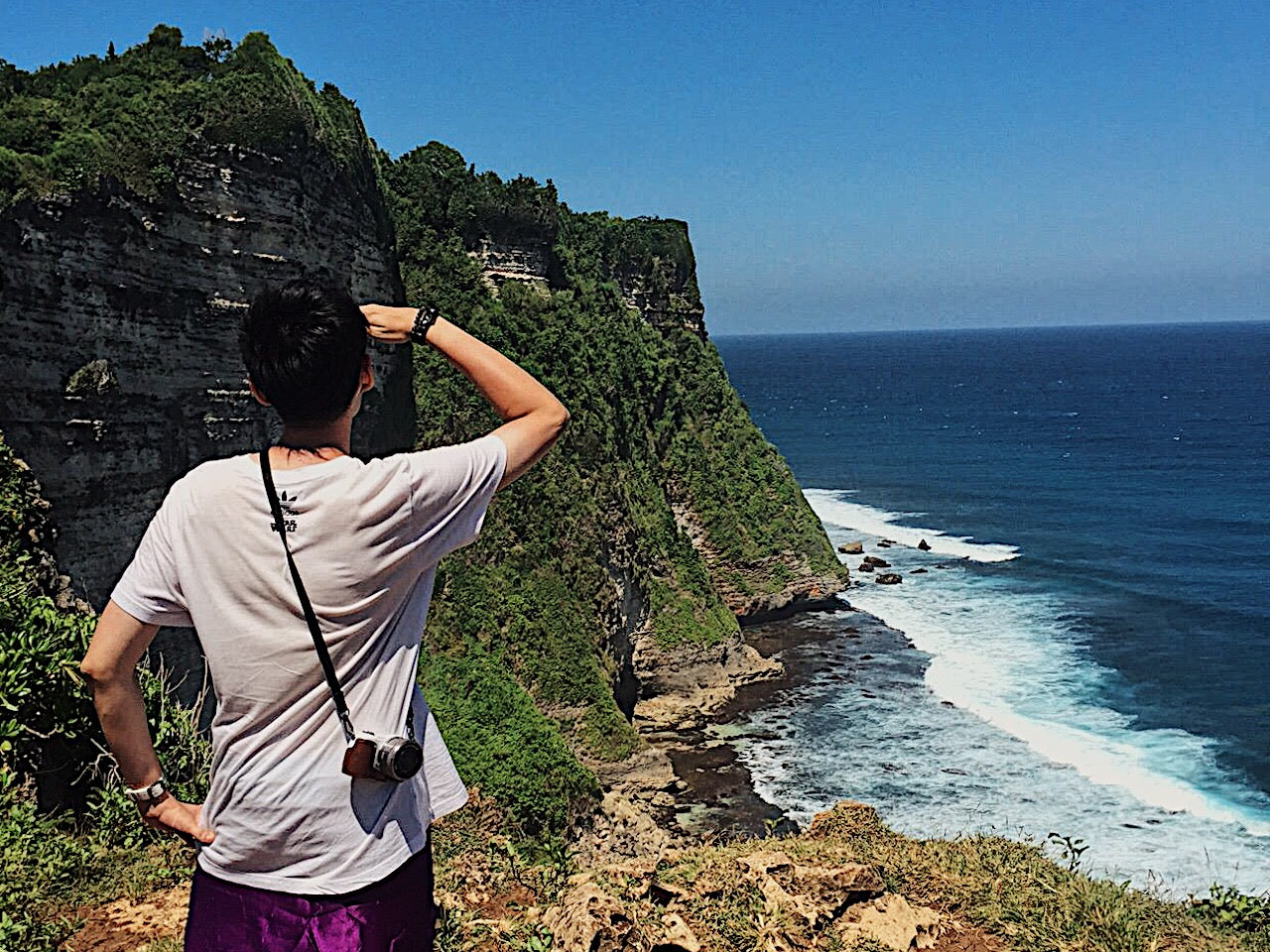 Bali: The Mountains of Uluwatu
Since our flight only departs at night, we have some time to spare and so James decides to book us a driver for half a day, where he would bring us on a short trip to explore the beautiful mountains of Uluwatu.
"Keep your bags, monkey very naughty. Snatch", our driver said that in broken English
Known to be a natural habitat of the monkeys, this place seems like a place out of a game show, legends of the hidden temple. The beautiful timeless ruins that wrap itself with mosses that grow with the weather. This ancient beauty is one of the places that captured my heart, even though the monkeys are a little too cheeky for my liking.
We visited the beautiful temples, said our prayers and looked out to the sea. It actually wasn't as scared as they said because there are quite a number of tourists there. And Thank God those monkeys aren't picking on us actually!
There are, however, a few photographers who went really close and weren't afraid at all. I saw one who's taking a close shot of the mother nursing her child. It was truly a beautiful one, definitely.
But we alongside with most Asians are probably scared shitless.
There are "several" other locals who offered services to be guardians, whereby they would be right beside you if you would pay them. I'm not sure if they actually are in cahoots with the monkeys for this one, but we politely declined.
We hiked through the beautiful monkey forest that brought us to the peak, but only to find that there are only 3 of us now instead of the tour. I bet the tours are too lazy to head up. So there are now 3 of us and a whole lot of them
I swear we are really timid, even though we are so much bigger than them. Our hearts are as small as a mouse as we looked down and traced our steps carefully as if we're in shame. It's best not to give any eye contact or show teeth, so we tiptoe across the path, hope that they don't see us.
Our heart stops hearing the peak when we saw this huge cluster of monkeys seated there. I could hear some of them gritting their teeth while looking at us as if hooligans starring us down. We then decide to walk in a single file slowly across them, hoping that they won't notice.
What happened next became my story to tell when one of them decides to try stealing my slippers.I could feel his hairy and somewhat adorable (awwww) hands placed above the ball of my ankle while the other slides skillfully below my sole while trying to pull the slippers out from behind.
Well, obviously it didn't work because that's not how you remove a slipper.
I ran after that and left him looking around feeling bewildered.
And then we're at the peak.
Finally.
We stood by the coastal rocks and looked out into the sea, the beautiful blue and stretches beyond her beautiful fingers that run across the globe.
"Endless Blue. It's an endless blue"
I starred out at the horizon while looking around again and again as if my pupils were trying to catch the corner the horizon disappeared in.
But it just stretched into nothingness. Amidst the episode, it's really Zen up here.
I could hear the beautiful waves crashing into the rocks over and over as if trying to break free.
We take a breather before walking across the grass exploring the area before reluctantly descend. It's funny how it's not the view that kept us up here, but the monkey. But we have to head down and be on schedule.
Along the hike, we actually were stopped by this Japanese family who was hiking towards the peak. However, the man was holding onto his umbrella trying to "fight" the monkeys, meanwhile the Alpha snarl at him, while arching his back, as if preparing to fight anytime. There's a loud thud before the monkeys scamper. 
I hope no one is hurt.
We hastily made our descend and found our driver sneaking a cat nap at the front seat of his minivan. It's as if he knows we're done when we peered lazily at us through the gap of the window. He got out and opened the passenger door for us and while doing so he looked at us and said.
"How? Are the monkey naughty?"
I laughed while recounting the episode with my slippers. But luckily none of us was scratched despite the close encounters. They're probably fine if left alone and be sure not to do anything unnecessary to aggravate the monkeys.
P.S. Do you know what's the funniest thing?
Doing my time of military service I was actually sent to this bunker on a hill which is renown for having monkeys.
Funny how the universe works.