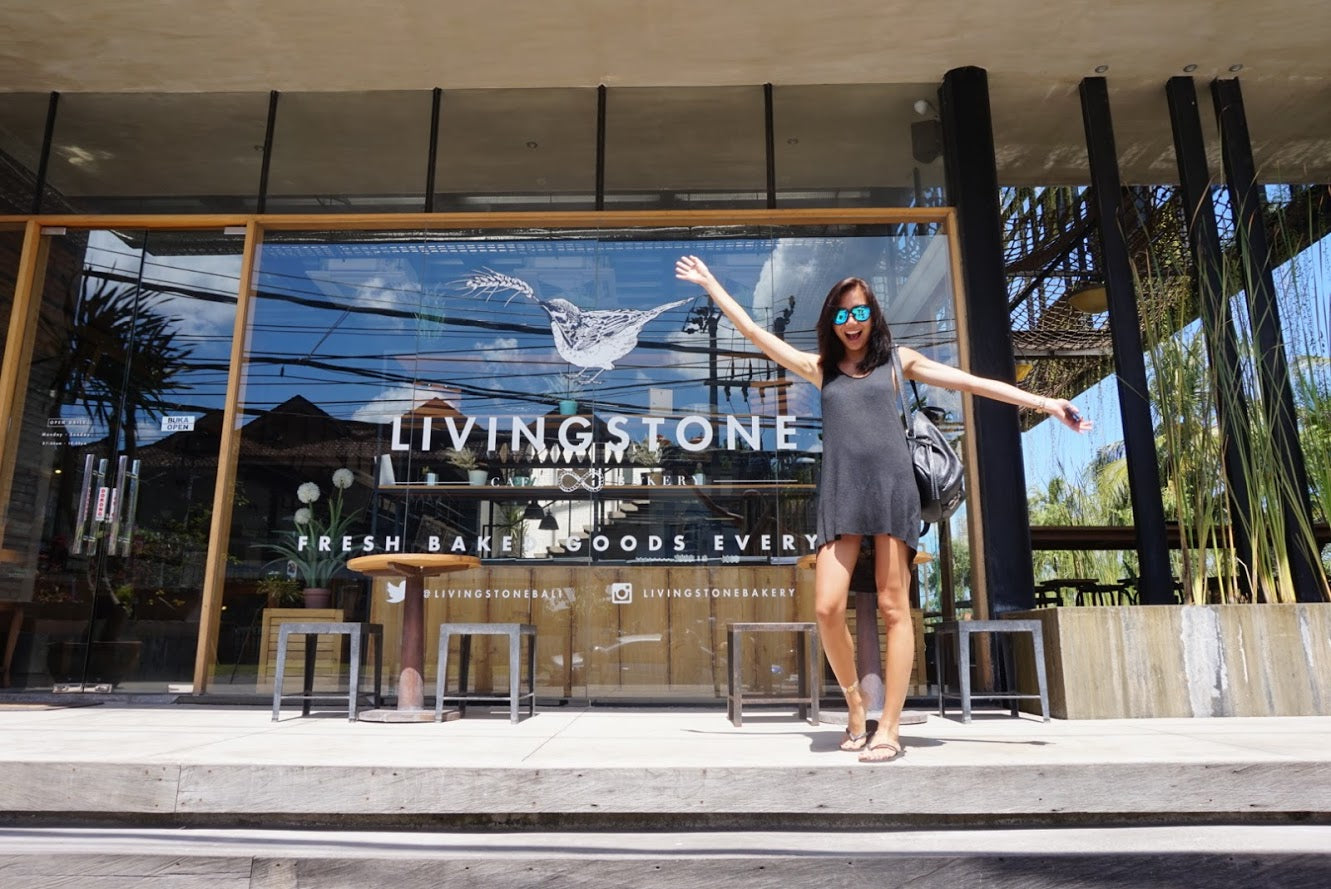 Bali: Livingstone Cafe & Bakery
If I could pick a cafe out of Bali, this is actually the place that I'll pick. Period. 
Not Sisterfields, not sea circus (even though they have cool hipsters name)
Instead of spamming you photos with simple effortless sentences that just describe the shot, I decided to try something different. 
I'll try writing about my raw emotions and thoughts by visiting this space, and how it made me feel. 
Genuinely.
So... Nope I'm not going to talk about their menu, or what you should get.
This is not a commercialized post and reading on, I hope you could understand why and eventually set out to find a cafe that speaks to your heart.
We actually passed by this cafe a few times during our travel in Bali, and as it is almost a stone throw away from our villa, we decide to only check it out at the last day of our trip, since we couldn't go too far out due to the time constraint and Jame have chartered a driver to show us Uluwatu in the afternoons.
I could always relive the cafe whenever I closed my eyes. How the soft noir goes right with the wood and whites. Upon entering, you'll spot the bakery on your side, maybe your nose would beat you to it first when they picked up the fragrance from the bread.
I could smell the amazing aroma of the bakery, the bread, the sound of butter knives scraping against the morning toast. The music, despite the size of the cafe, doesn't go on full blast, so you could still have a conversation, socialize and connect.
What stood out from here was actually the watermelon bread that is displayed proudly at the top of its shelf.
Above would be its second storey, an amazing space where you could look at their arts, how aesthetically pleasing everything is. It is literally almost like the MUJI meets Cafe and Bakery. The beautiful large mahogany tables that stood proudly with its own unique shapes, the uneven sides gives a peculiar form of depth as if this table just got carved right out of the tree.
From above you could see an overview of the whole first storey (I'll attach a photo), it's an amazing spot to people watch, and looking at lightbulbs with dangles freely across with the classic rope just adds an extra punch to the cake.
I could see the coffee machine wheezing for the millionth times as the aroma of the coffee feels up space. The staff waltz around the floor like clockwork, each carefully doing their own stuff yet avoiding each other as if it's a perfectly synchronized symphony.
We proceeded to order our food, and though I'm no foodie, I'm actually literally just excited at how aesthetically pleasing it seats together with the wood grains. How every shot with the food looks beautiful. You should try it! 
(Or maybe check out their social feed to see for yourself!)
And this place, now that I'm thinking back, actually sort of reminds me of PACAMARA, a simple minimalistic themed white cafe back in Singapore.
"OMG, WE HAVE GOT 3 HASHBROWNS!, THREE! THREE!" 
That was my first man-child reaction when I saw them serving us the dish. 
My mouth forms an obvious glee and I bet the waiter might be wondering if I'm really such a fan of the golden potato.
(Yes, I am. But it's 3 Hashbrowns man! Sorry for being ridiculously over excited).
I took my usual fix of Americano, and it didn't really make an impression. I'm just not an avid coffee drinker even though I drink anything black. I love my coffee as dark as my wilting soul. But I could really just make do with a dollar coffee too so...
I was actually more awed by its beautiful coaster made out of cork with their logo and name printed on it.
<As we were Cafe-Hopping, we actually decided to collect take away cups from cafes all over Bali and their cups really look really good too.>
The food is pretty amazing, to be honest, I am no foodie to judge, but the ambiance would really make me wanna return again.
To walk along it's "NOOK x MUJI" like shop, to trace my hands along the gaps of those symmetrically arranged items, from notebooks to phone covers and whatnots. I couldn't exactly remember everything but everything is just too addictive to look at. I stared at the art dreamingly while the sun shines right through its glass window. Yes, the beautiful delicate glass window framed by yet another unknown food that really gives you the feel.
"A cozy cabin cafe?"
I don't know what about the Livingstone, but it is pretty amazing as it is. It shows me how such a big space could make you feel like it's a safe and cozy space despite the contradictory dimensions.
I'll love to stay there, read a book or write you stories from my voyages across the seven seas. And if I'm ever going back to Bali, I'll love to spend a day basking in the ambiance there.
*fingers crossed* On having good wifi and hope they won't chase me out. 
Though usually, it's the food or drinks that make the F&B Outlet, sometimes it's the intangible elements that go unnoticed. And that is actually what eventually made a place special, uniquely to you (:
Details
Name: Livingstone
Address: Jl. Petitenget No.88X, Kerobokan Kelod, Kuta Utara, Kabupaten Badung, Bali 80361, Indonesia
Opening Hours: 7am - 10pm Daily
(Website)