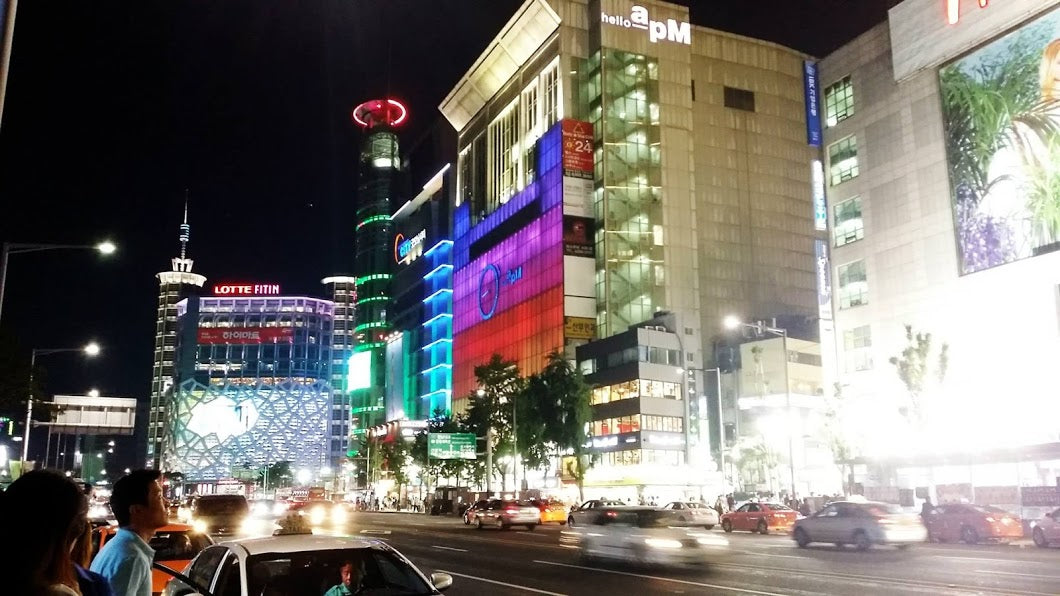 3 Shopping Malls to go in Dongdaemun Market
3 Shopping Malls to go in Dongdaemun Market

Since my boys are such fashionista, we headed to Dongdaemun on some nights during our travels to Seoul.
And it's literally "Taobao" in real life.
clothing, accessories everywhere, spewed out in racks that could barely hold them when you could see the bend on the pipes.
You could spot forklifts in the works in some corner, goods being packed into shipping parcel as the workers nonchalantly check and threw it to another corner.

Shopaholic from all over the world swarm the place at night, already carrying numerous bags of loot from their haul and they're not done yet.
It is as they say, "the night is still young".

We checked out several malls, some doing wholesale business, others serving "small" customers like us with reluctant annoyance. Since we don't have the "volume".
As they are mostly regarded as a wholesale place, some salesperson won't budge unless you're getting 10 pieces or more (at least). Some of them would buzz you off when you're trying your best at speaking delicate Korean, hoping they could give you a good price.

It's ironic how everyone behaves like clockwork, store attendants, and shoppers alike. Us, hopping from store to store waiting to "land" on a good deal, and them going on their own routine, the usual shipment and sitting there while watching TV shows from their mobile phone screens.

"Dongdaemun Market is a large commercial district comprised of traditional markets and shopping centres that cover the entire area around Dongdaemun Gate, a prominent landmark in Korea. It is Korea's largest wholesale and retail shopping district featuring 26 shopping malls, 30,000 specialty shops, and 50,000 manufacturers."

It is an absolute eye-opening walking along the shops, with aisles of different vendors sporting numerous designs and a crazy array of products.

Since it's been a while, here are 3 malls which left an impression and that's where we got most of our loot (mostly clothing) from!
-

1. apM PLACE: World Wholesale Market
Address: 276 Eulji-ro, Euljiro 7(chil)-ga, Jung-gu, Seoul, South Korea
(Website)
2. Hello aPM
Address: 253 Jangchungdan-ro, Gwanghui-dong, Jung-gu, Seoul, South Korea
(Website)
3. Migliore Dongdaemun
​Address: South Korea, Seoul, Jung-gu, Euljiro 6(yuk)-ga, 18-185
(Website)