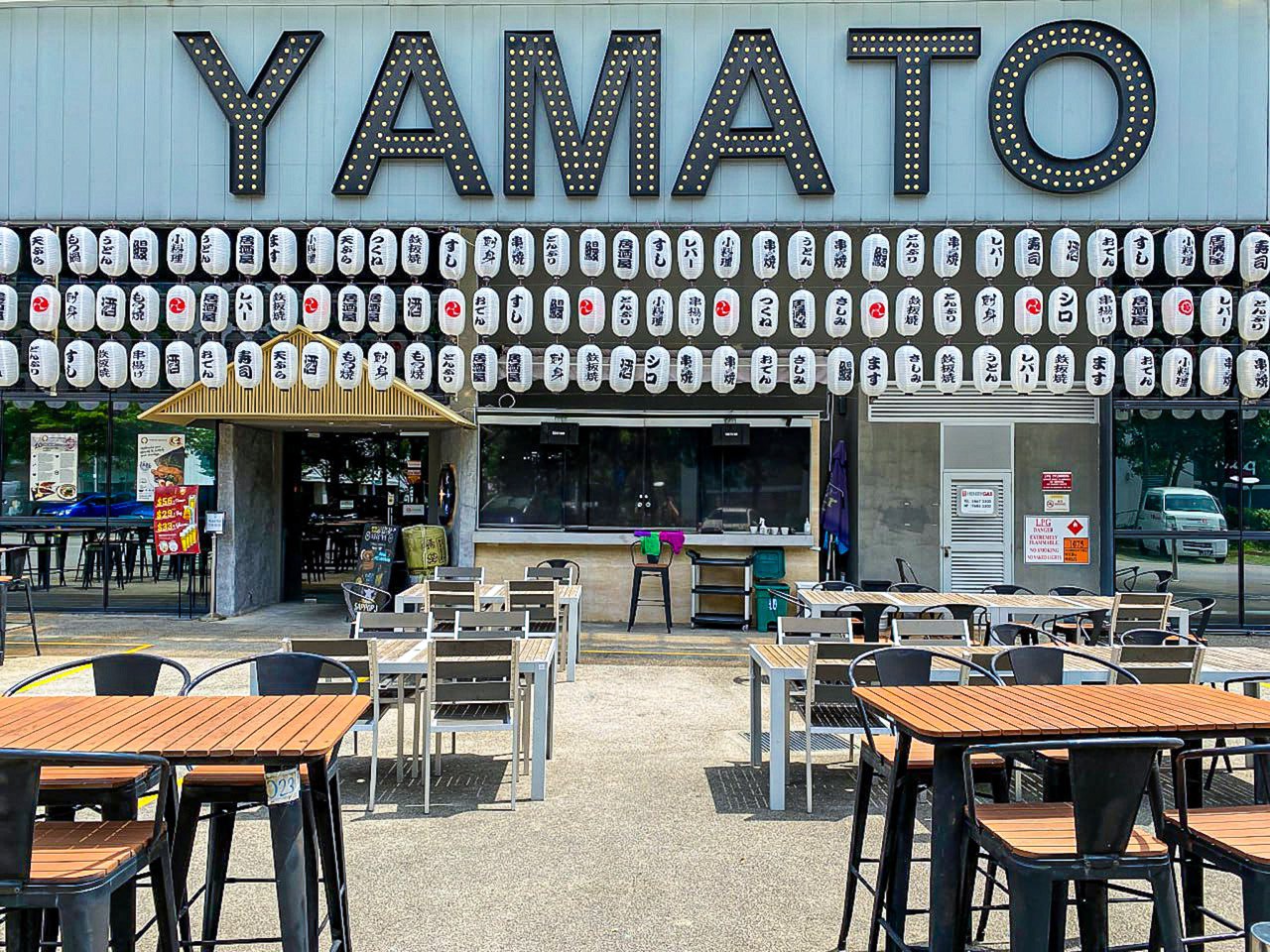 "We need to celebrate everyone's birthday"

"Yes!!"

"Everyone who's born in may June and July!"

After some rounds of short-listing food places, Yamato emerges the winner as afew of my friends have been there and their food really calls from another visit.

It wasn't exactly easy to go there but you'll find yourself looking at Google Map right from Tai Seng MRT and be there with around 10 mins walk. Tucked at the side of the business hub, Yamato isn't exactly a hidden gem as you could see their decor shouting flamboyantly right by the side. They have a huge signage as well, making it hard to miss.
I went in and was in awwww, as I saw the huge lantern donned the place. People are chattering from all directions and it felt to me like a more realistic scene out of spirited away. I could imagine Chihiro's parents pigging out at the corner, digging in.
It felt like a huge alliance of clanhouse of sort, as we care graced with the traditional decor and logo of the 3 brand that carries this place; Tora Tora, Rameng Hitoyoshi and Man Man.
I looked around and saw afew brand of f&b inside this establishment, and right infront is the famous Man Man (who are famous for their Unagi; eels). There's also Toha Tora and Ramen Hitoyoshi! The Ungais were possibly one of the most prized dishes amongst the menu, with people exclaiming them to serve one of Singapore's best Unagi.


We ordered a variety of dishes, from ramen to dons. I couldn't resist the mayo fries and decided to proclaim cheat day. The food seems great, planting more smiles than a gardener, but personally, it might seem abit more flavourful for my liking. While it might have been alittle too salty; this is more accurate to how dishes are in japan; flavourful.
It's a good thing despite me finding myself chugging that matcha tea as much as I can. I love the garlic ramen that I had ordered and the fries with bonito flakes really did it for me. As a lover of friends, this is something that I'll find nice. Some of us also try their trademark eels (as usual they're good), the gyozas are great as well.
Though Yamato Izakaya is more on the high side of the budget, I can assure you that it's worth it. Do pop by during the night if you're up for drinks as you could see the lights and decor giving this place life. I can imagine some pretty good ambient if the weather isn't too harsh or humid, sipping soju and beers or you're up for some sake over some izakaya snacks. Yamato is an absolute guilty pleasure not to be missed.
*
Details:
Name: Yamato Izakaya
Addres: 65 Ubi Rd 1, #01-92 Oxley Bizhub, Singapore 408729
Opening Hours: 11:30 am–3 pm, 6–10 pm
(Website)