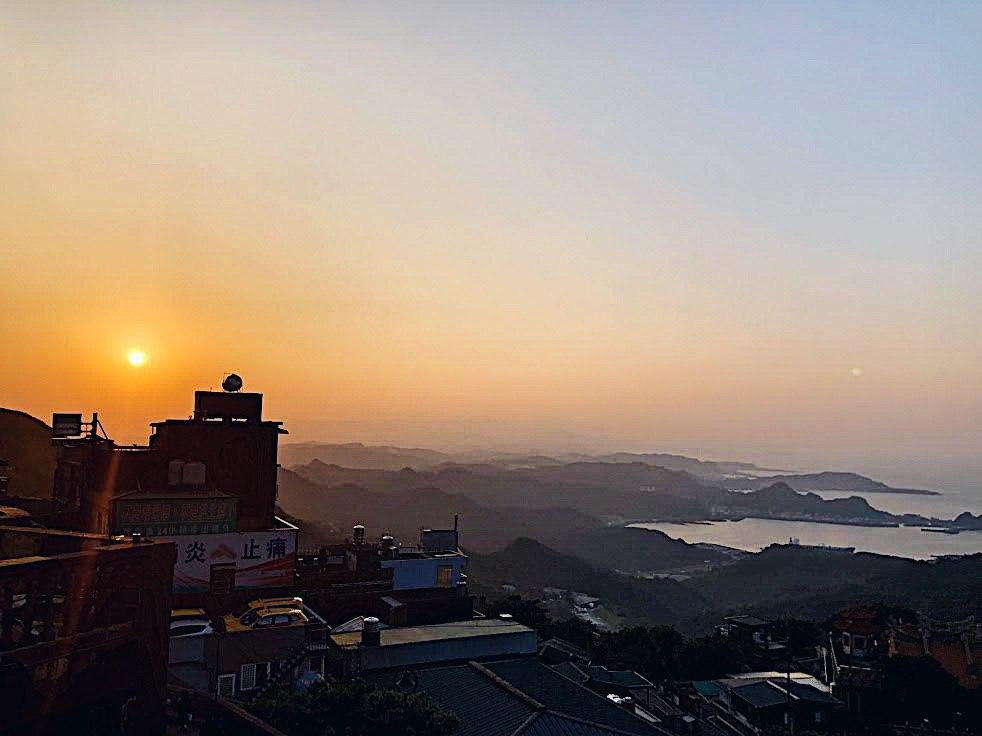 We got off the cab and looked at the mountains of Jiufen in awe. It is a very strange experience as all of us haven't been to Jiufe before, and Google always mostly shows us the lanterns that donned the place which becomes the landmark overtime.
It is so different compared with what we saw online, the streets, the lights. The driver gestured and said to drop us off at somewhere quiet, so it won't jam up the traffic, he muttered something about the law or something. Possibly no drop off at the more touristy side, we smiled and made our way out after he point us the general direction to the street. It isn't too hard to navigate in Jiufen.
A very unexpected sunset, but sometimes the best things in life come unexpectedly. It felt tired, for some reason, the sunset. Maybe its because we had such a long day, and we are worn out. Though the fatigue didn't take any toll on the beauty, only giving it more depth. I looked at the sunset again, it felt like a weary man, just sitting by the coast, dangling his legs, before having his feet soaked by the sea. The ripples felt like hues that spread across the evening skies as he ran across his thoughts on life, how far he'd come and his happiness. It is open to interpretation if it is gonna be dark or hopeful, but it felt like he jumped into the sea after.
I saw him, sinking in as all the bright places started to turn dark, the town lit up their lights in remembrance of him, hoping that he'll come back home soon, that he'll come back to fight for another day, and to live again. They did that every single night, out of remembrance of the weary man. And sometimes its still beautiful to be hopeful. Because somewhere out there, amongst the cascade of the mountains, the weary man might be sitting at the peak, under the stairs at night, looking over at the city lights, knowing that he meant something.
Sometimes that's all we want, to mean something, to have an impact to change and to help the world to be better, and eventually we would be, too.