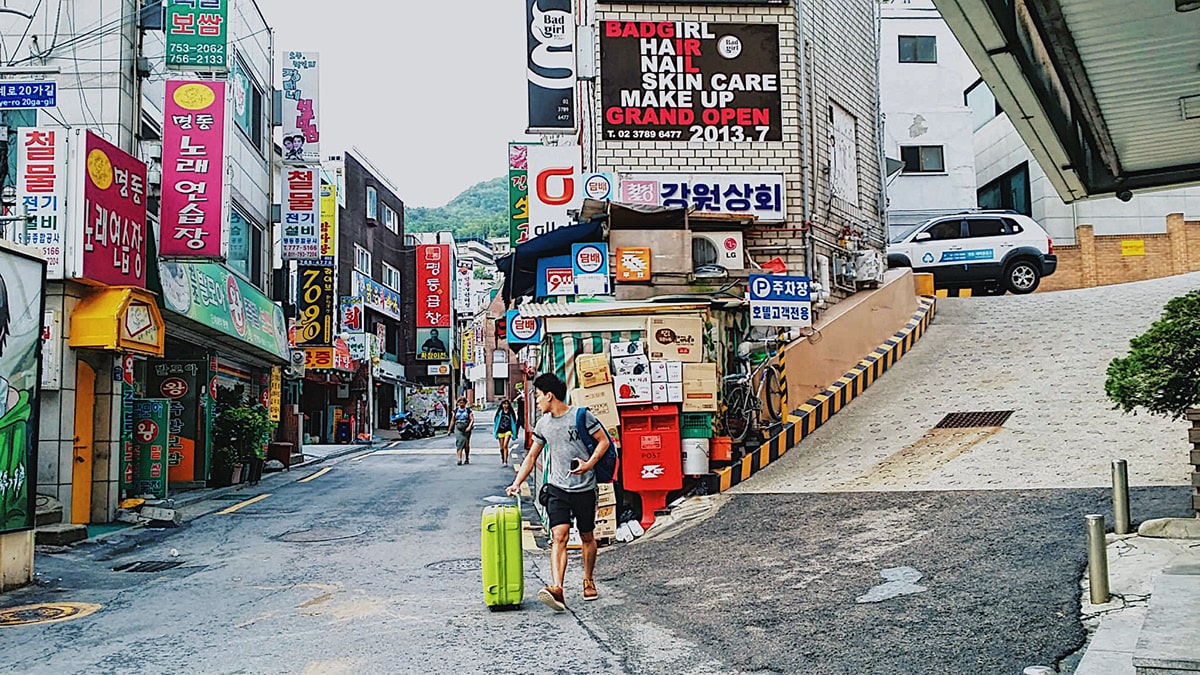 I'd never left home much before.
Not for long.

Even short travels to visit relatives from Malaysia makes me feel uneasy. However, I didn't learn how to enjoy when my dad bought me to cruise trips, Genting trips, and even when the whole family and relatives head out to Australia. I didn't think it was too much of a big deal then but thinking back, it certainly is. I stayed in a farmhouse, dodge poultry poops and even rode a horse. I'll probably get to it on one of the days.
I'll rather stay at home in the comforts of my room, the convenience of the internet, and the familiar oscillations of my standing fan.

"Let's go to Korea"

That's all it takes.
My loved ones, my cousin and my brother, love South Korea and suggested a trip.
And I can never say no to my boys.
I left the planning to them since I'd got no preference or no particular interest in anything.

And before we know it, I'm pulling my luggage across the airport.
We took a connecting flight since it's half the price of direct ones, and we stopped at Ho Chi Minh City for 2 hours before resuming our adventure.
We got coffee, roamed around the airport (little did I know I would visit here myself in the near future)

As weird as it sounds, I really love plane food.
I adore them to the core, I love their orange juice, dining in the skies.
And I love the window seats and the view of the wings.
Other than that, I haven't got any preference nor had I discovered myself spiritually enough to know my favorite city.

But this is the story that started it all.
The one that eventually got me rolling into Bali, Hong Kong, Kuala Lumpur, Japan, and the list goes on.
We met another one of our boys there, Kaiyi, who would arrive an hour later (he took a direct flight) and another guy (Jun Ting) would be joining us several days after.
We went on to check in after, took the train over to Myeong Dong where we got into our hostel.
I was then just another "observer", who followed and switched off. I wasn't particularly awed yet.

But I daresay I love the ratchetness of our accommodation.
Not being sarcastic but I love the grunge, the grittiness.
The place was half done and hence we manage to get it at a cheap price.
And it's truly interesting how we have to wade through all the construction tools and concrete before entering our place of dwelling.
But aside from the grunge, the room is actually pretty amazing.
A twin with a proper mini toilet, this would be our humble home for 10 days.

After those come dumplings (Man Du) and coffee.
We chilled a lot, walked the streets, look at Korean baes (duh) and let's just say we have a great time as boys.
It's nothing too different from boys heading out to town, but then the place itself has a pretty different vibe.
To me it's just the same, hanging out with the boys, but with a bit of a different environment.

But over the days I started to notice things.
I started to fall in love with strangers, people I'd never meet.
I found myself people watching, which slowly lead me to fall in love with candid human photography.
I started to enjoy exploring the streets, trying out different food, and not restrict myself to western looking dishes.

The beautiful cafes which are really quiet, while nicotine and light indie folk music fill up the space.
The museums where we got a good laugh or two from random tourists, and it's even more heartwarming when we came across fellow Singaporean.
The wholesale shopping area where shoppers from all over Asia swarm the market.
The culture of fried chicken and beer, and also barbeque food, though it amazes me that they are never fat.
The amazing Han River where I ran across the alone, flying my kite which I bought there. For a moment I was transported into my own world.
The mountains which pried opened my reserved heart that I thought it could only contain a person, not a place.
But it could.
I'd only realized how big our heart can be now.

And with that, there is no better place to start my adventure with Seoul, together with all of my boys whom I can call family.

This trip eventually stirred up my heart a little, before I embarked from Bali, Hong Kong and slowly I seek to travel around the world.
​