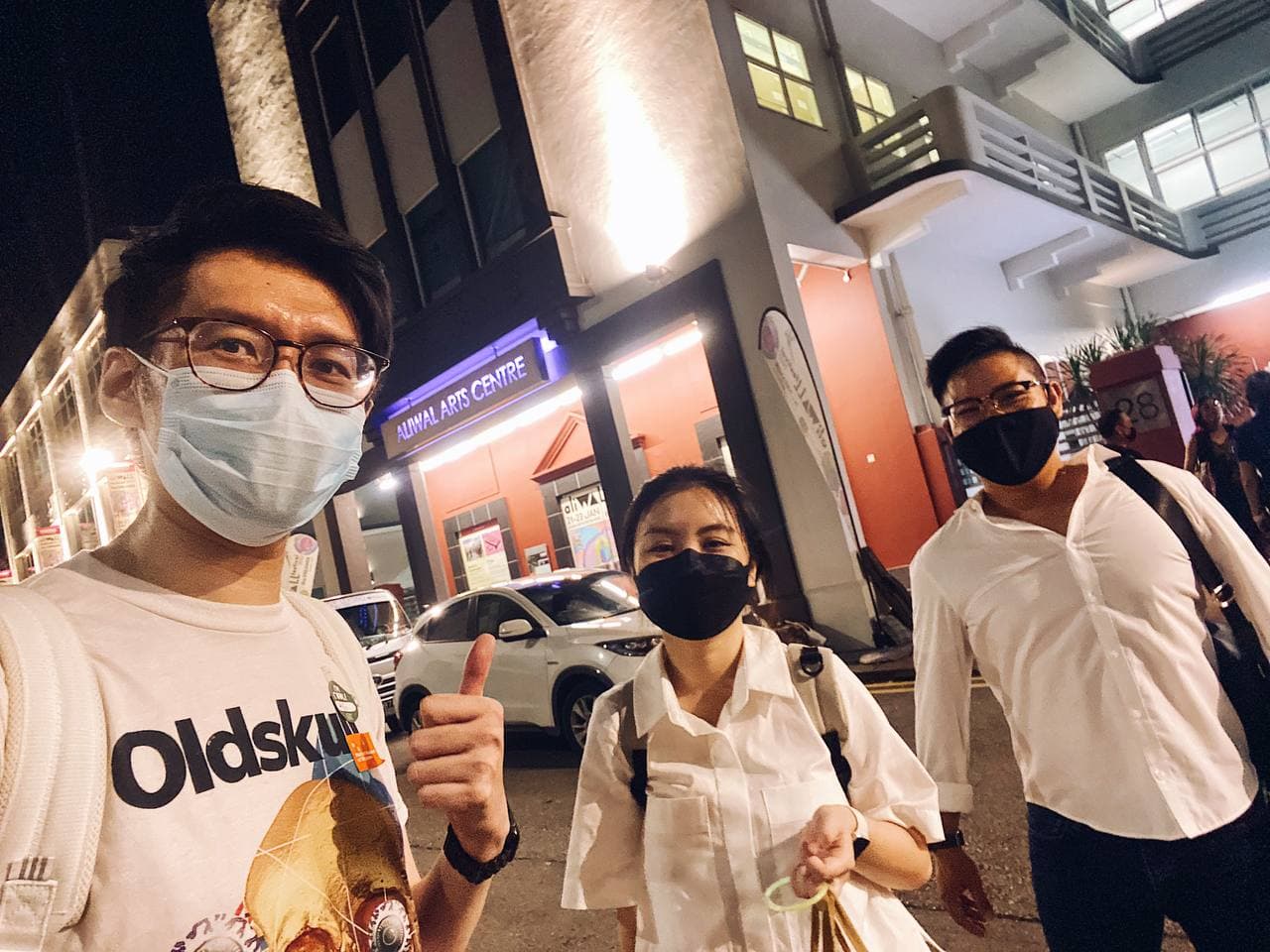 People I met: Khoo and Elin
During my mural tour, I'd shared that I'd met 2 fellow kindred spirits! So here's our story.

I first spoke to Elin, with some on and off the conversation as I could feel the usual awkwardness and anxiousness creeping into me. Gone were the extroversion that spew naturally in me during my hostel days now I could barely manage a hello; only to find myself giving a slight smile that might have looked like a frown. Oh god, what is it actually?

Nearing the end of the mural I find myself interacting with Khoo, whom I later hung out together with Zero near the end. It was nice learning and having a conversation going together where Zero senpai was showing us his art direction. We then became to talk after everything when we start sharing more with each other. That's also when I know Khoo's gentle giant vibe fit right to him being a social worker. This empathetic and caring tone only encourage me to share more and dive deeper into conversations with him as we bounced between arts and mental health; before I know it I was somewhat in my comfort zone.

Elin on the other hand is a photographer who does gigs and is a huge planner of things. From tours, festivals to community events that I didn't even hear of. She also spends her time volunteering?! It's almost unreal as people in our society are asking for more time and here she is giving her own. She really have heart and I'd say even the model citizen vibe as she knows just about anything in the ins and outs of Singapore; from festivals to events. And I thought I covered most of the (well artsy) ones.

Both of them also share "My community" with me, something that I'd unheard of. I wasn't active in social media and news. I'm amazed at how I manage to still attend the majority of art events and festivals. And it was also through them that I'd learn so much and know that there's so much more for me to learn. From pursuing passion to growing our personal projects.

The trio of us made our way back to the Aliwa art centre where it all turn into a slow waltz and an eventual halt as we stood by the side of the road conversing. And we were there for the longest time, accompanied by the white noise of the Prata house topped with some occasional buzzing of the traffic.

Being fellow artists and wanderlust, it was incredibly nice to be able to talk about things like this. It was hard to find or even add colours like these in our daily mundane conversations that stem from just about our tangible needs, work and mostly about what should we have for our meals. But we exchanged a lot more than that, from artistic journeys to travel stories and even events and festivals. Them being backpackers as well just tells alot!

Y'know the moment when kindred spirits connected? It was what happened. Sometimes we don't need all the stars to align nor do we need to constantly stay in touch and what not as we would likely go back into the hustle and bustle of the weekday grind, but knowing that we are constantly finding time and avenues to grow our art, to crave our own path in our own journey despite the society's stigma try to set in stone, is something. They are so productive that meeting them made me feel so bad about myself that I decided to work on myself alittle harder.

So perhaps the next time should we ever cross paths we would all be better persons ourselves; shall we?