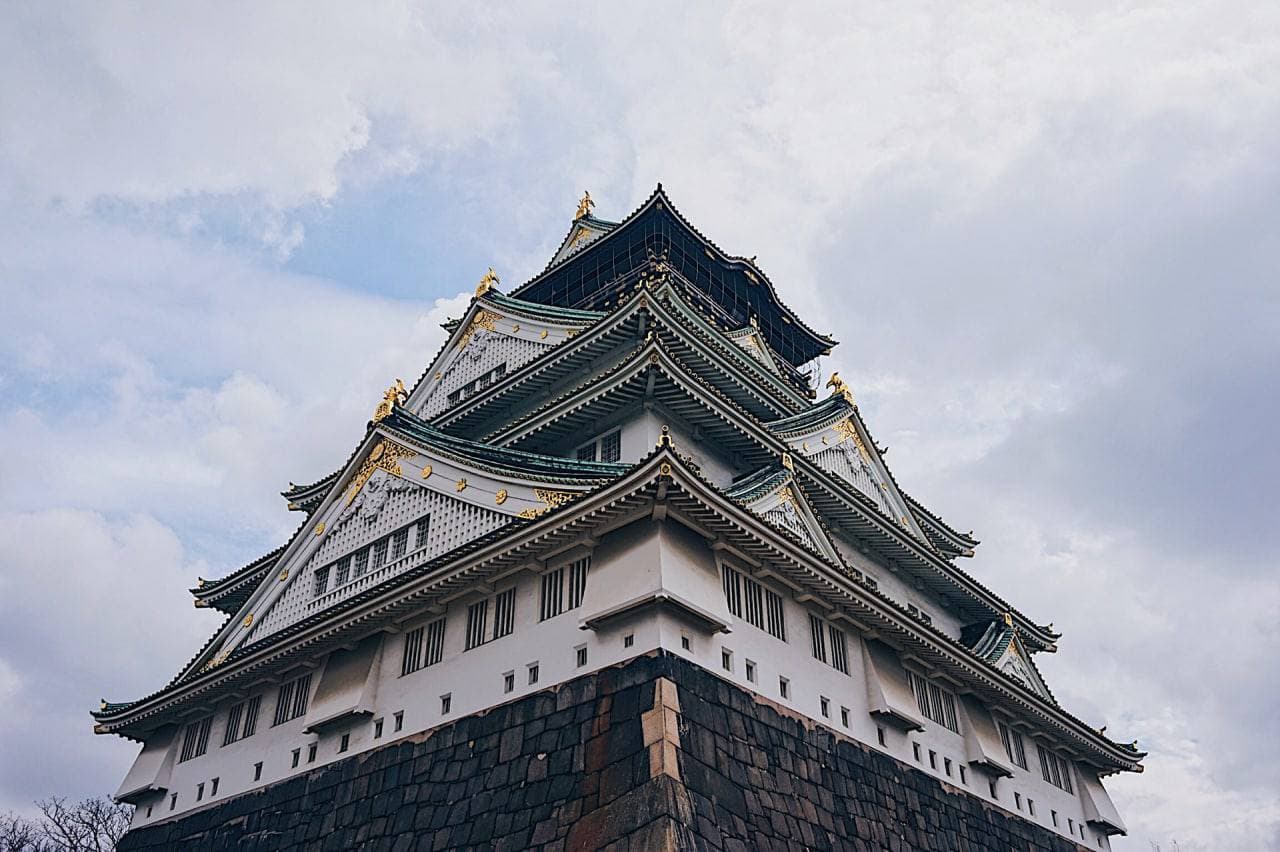 Utilizing the JR pass we have, the nearest station that'll bring us to Osaka Castle is the Osakajokoen Station. The walk over to the Station is decently long, not too long that'll tire you, but one that really gets you working out. But once we saw the castle wall from a distance, all our fatigue faded away.
I ran my hands across the stone labyrinth while taking in the morning air. We're so caught up sometimes and sometimes... It's nice to be in the present. The sounds of the passing traffic buzzing in the background, not loud enough to cause any disturbance. High School Students running around, rushing to the cherry blossom trees taking selfies.

We actually spent A LOT of time below, taking photos, admiring the amazing architecture. I was really looking at Osaka Castle really really hard. There's also a souvenir store nearby where we bought random food and trinkets before we finally decided to head over to Osaka Castle after digressing for so long. There's also a space nearby where you can
I'm not exactly a history nerd, and so is she. But we decided to head up anyway after debating for less than a minute.The majestic exhibition is really worth it even though I didn't stay to go through every single section. The cool and suave samurai helmets, the diorama and their models helped us to immerse in the experience. The inside is much more modern than we thought, as there is air conditioning and even elevators (if I remembered correctly).
For us, it is definitely the scenery that gave an everlasting impression. The unique hues of the pastel-ish green that stays on the castle, together with April's pink. This is probably one of the castles that I wanted to check off in my bucket list since young, with the next one being Himeji. I love overlooking the river area, laying across the beautifully lined up cherry blossoms that felt like samurais guarding the Osaka Castle.

It was however really sad to see some tourists yanking and plucking the lower hanging cherry blossoms
That's where I really went to find out that the petals of the Cherry Blossom symbolises the lives of the fallen Samurai. So how dare they? They could have taken this on the ground no? Though, they should pretty much lay them to rest and admire it as it is.

We really enjoyed adoring the cherry blossoms, strolling across the park, people watching, and also having a takoyaki treat before we head off!


*
Name: Osaka Castle (大坂城 )
Address: 〒540-0002 1-1, Osakajo, Chuo-ku, Osaka City