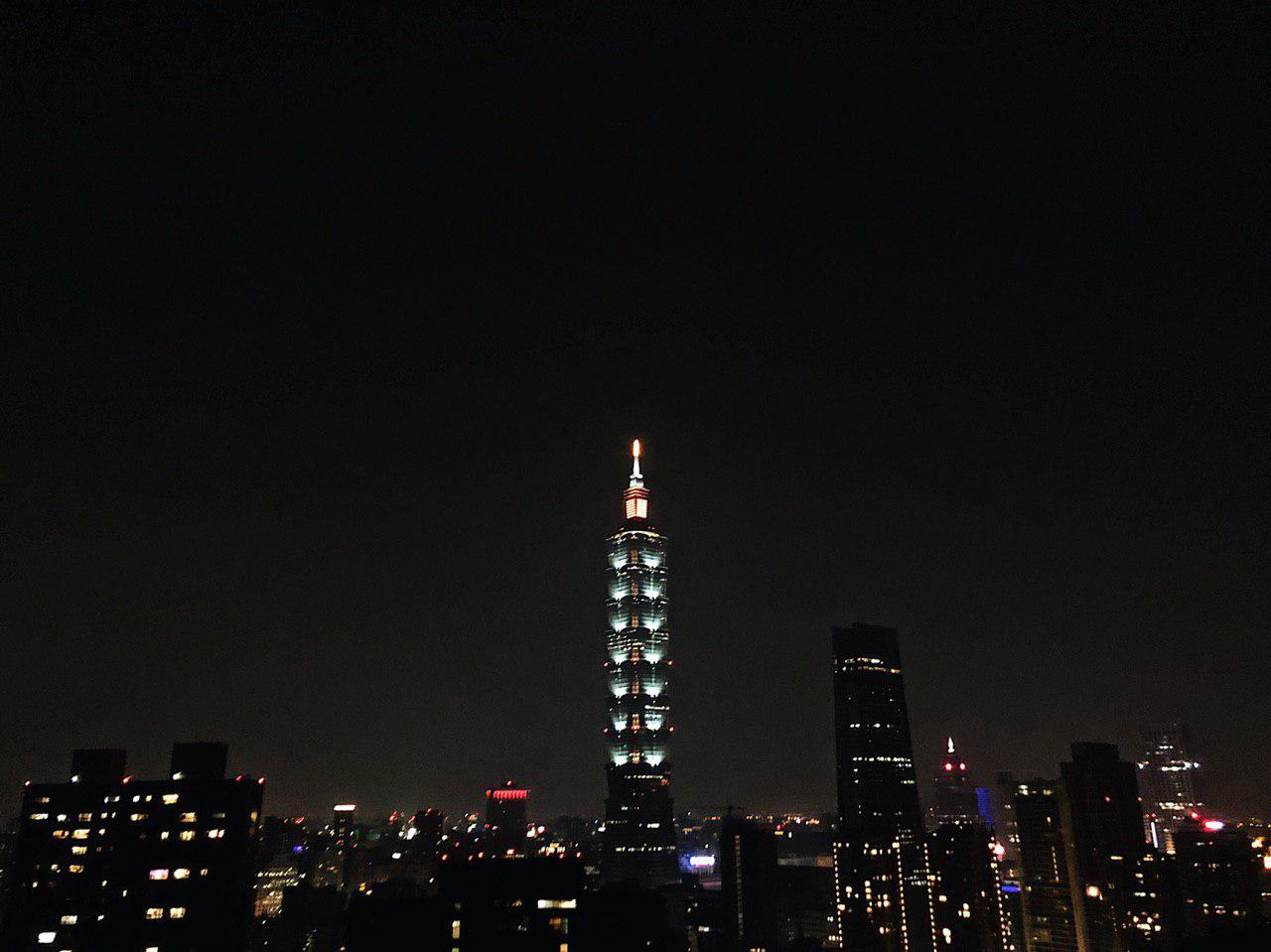 Feeling restless, Steve and I decided to just head out for a walk and probably a beer. It was 8 pm while walking before we decided that we should go to see Taipei 101 at night. Towering at 509m, this skyscraper is the world's 10th tallest building.
And how could we give this gigantic landmark a miss, right? We took a walk right from our hostel, near Taipei main station, while we chatted, laughed and goofed around for what it might seem to be an hour or something before we're there.
The skyscraper sadly isn't fully lit up. We actually reached Taipei 101 first before deciding to move on over to hike the Elephant Hill. The majestic tower stood there like a giant as we stood at its feet. If felt somewhat "insect-like" with it's "sectional" body, together with the yellowish and white lights.
This "hike" is somewhat different from what I had previously as we had a long and exhausting urban pre-hike 6km walk previously. After asking some locals we managed to reach the bottom of Xiangshan. We reached the bottom of the elephant mountain at 10.40 and behind our hike.
The hike is relatively easy with a lot of stairs, and as the stairs are uneven, it could be quite challenging for people with night blindness as this time of the night as it is really dark.
I started to feel hot and I took off my top and continue the climb. After Khunkorn waterfall, I actually am more daring and confident about my body, even though sometimes I still feel very conscious of it.
To our surprise, upon reaching the peak, we actually spotted a number of people of there. Mostly Koreans, people are up there, having fun, climbing rocks and taking photos. We stood over there, watching the population of city lights blink across the night skies.

We took a moment. This city is so much different from the ones I'd been, yet they are so similar in different ways. Maybe part of it reminds me of Japan, the trains, the people and the streets. It is also somewhat closer to my comfort zone as people mostly speak in mandarin there, thus making things easier for me. But that still didn't stop me from constantly wanting to push myself, as I venture on a side project to try to make my hostel more sociable.
*
Details
Name: Elephant Hill
Address: Alley 342, Lane 150, Section 5, Xinyi Road, Xinyi District, Taipei City, 110
Opening Hours: 24 Hours