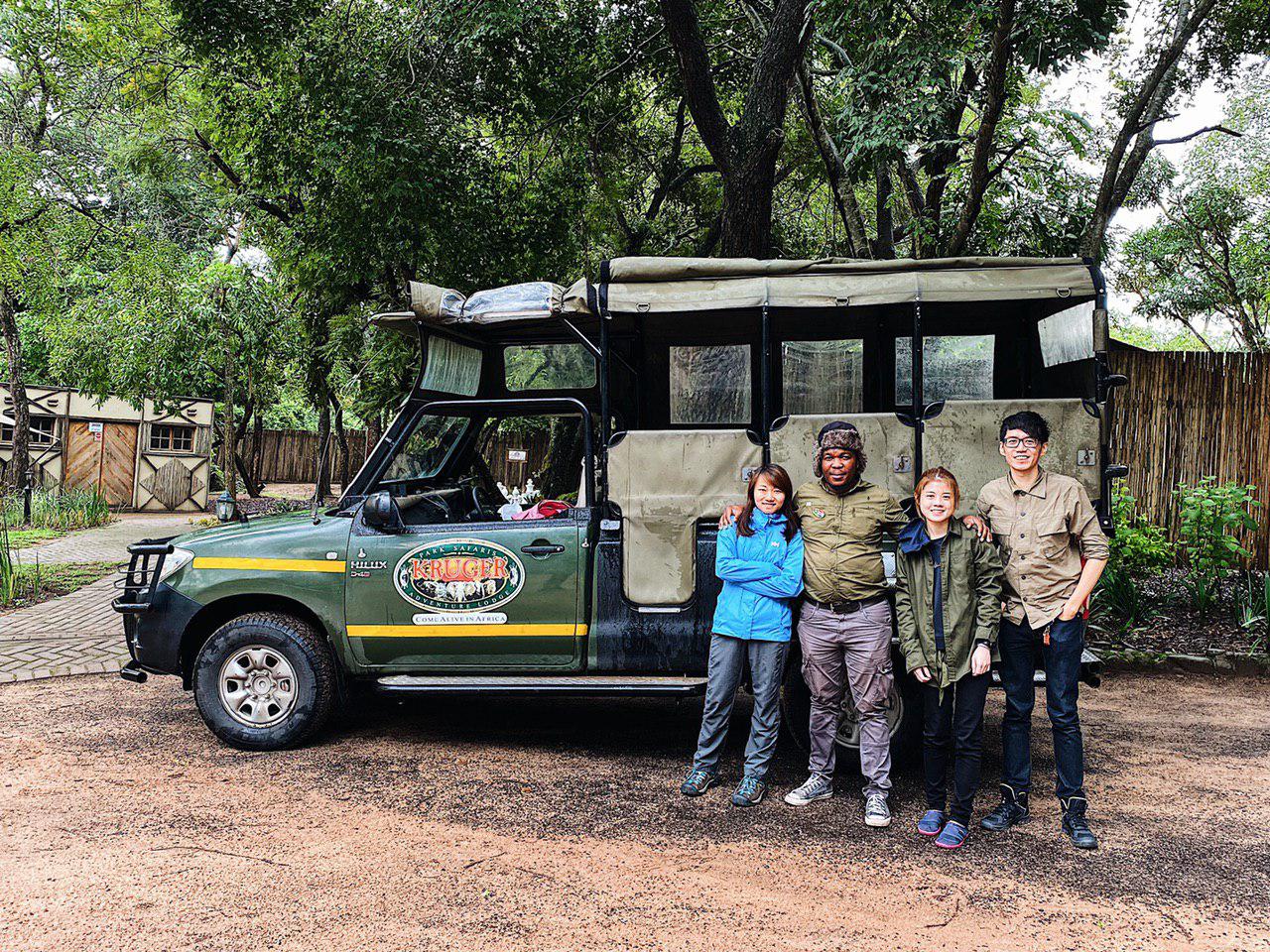 To avoid any inconvenience, we booked a trip over to Kruger Safari that comes with a pick up and drop off at our hostels. 
I pondered a lot on how to go about this post as I was overwhelmed with the experience itself and am considering on how to "story tell" the everything.
Kruger Adventure Lodge, taking up around 1.9km square of the space is the largest and most well known Safari around in South Africa. After a lengthy 5 hours drive, we finally make base at their campsite which consist of a humble tentage with everything you need. This is as close as glamping you can get and I fell in love right after the door.
I love how it's made of pure tentage with the foundation being structured by a slab for good measure. Think primitive technology with a touch of "technology" itself. The toilet isn't backward at all as we have working flush, hot water and yes, a personal shower is all you need after a long and exhausting day chasing footprints.
We would be based at the Kruger Adventure Lodge for the next 3 days and 2 nights. We were given a "sunset drive" Safari experience and a "Full Day" experience with most meals included. You'll be surprise by the amount of effort put in preparing the meals as they are more than decent. And I'm talking about 3 course meal decent.
*
We headed out after our designated driver/guide, Lucky picked us up. Yes his name is Lucky. And boy do we need more Luck than anyone with the raining season hitting us in all ways. And it did for the past 2 days.
For all South Africa safari experience, the "ISO benchmark" would calls for the big five. Namely the lion, buffalo, leopard, elephant and the rhino. Each of them are known for their majestic charm that would knock you right off the feet, and we are amazingly lucky to be able to catch all of them despite the weather. However I would feel that the underrated ones that deserves an honourable mentions would the the giraffes and zebras.
The colors contrasted extremely well against the forest backdrop, and the sheer size of the giraffe towering over a tree is literally irresistible.
At all times we were not allowed to get off the vehicle as long as we are in the Safari due to safety reasons. And it is a tad annoying as there are bushes and trees blocking our shot.
Winter was actually the best time to go around the Safari as the land were barren during the deadly season as the demise of the foliage's would clear out all the "screens" blocking the view. It is also easier for us to spot those animals as the land would be "clear". 
However we also had a far share of lucky encounters with the animals being really near us!
That might be one tip you would consider if you are ever doing the Safari.
I learnt to use my eyes for the most part of the experience as my camera have several zooming limitations. We are lucky to have a handful of memorable close encounters as well.
I particularly love how there's a viewing board for people to update sightings and there is also a group chat amongst the guide to share sightings to give travelers and tourists alike the best experience you can get.
It is so so so so different to observe animals through such a natural setting compared to going to a zoo or a "game reserve", where animals are bought and confined in a restricted space. Kruger certainly deserve so much more and after experiencing it, I would definitely recommend it as a must do to everyone visiting South Africa, despite the cost.
I went through a series of thought process and was even contemplating to drop this plan as it was rather costly. However it is indeed worth the price for its maintenance of amenities, logistic and the reserve itself. There is a lot of work keeping a natural reserve as "natural" as possible while you protect and keep endangered species alive. I also learn a lot about the animal's behaviour like how from looking at a impala's "alert reaction" signifies a predator nearby. The list could go on for awhile but it is nice that our guide provided us with not only an amazing experience but an educated one as well.
After this new found love and experience, I am now more open to and would love to try photographing animals in their wild, in their most natural, and authentic state and environment.