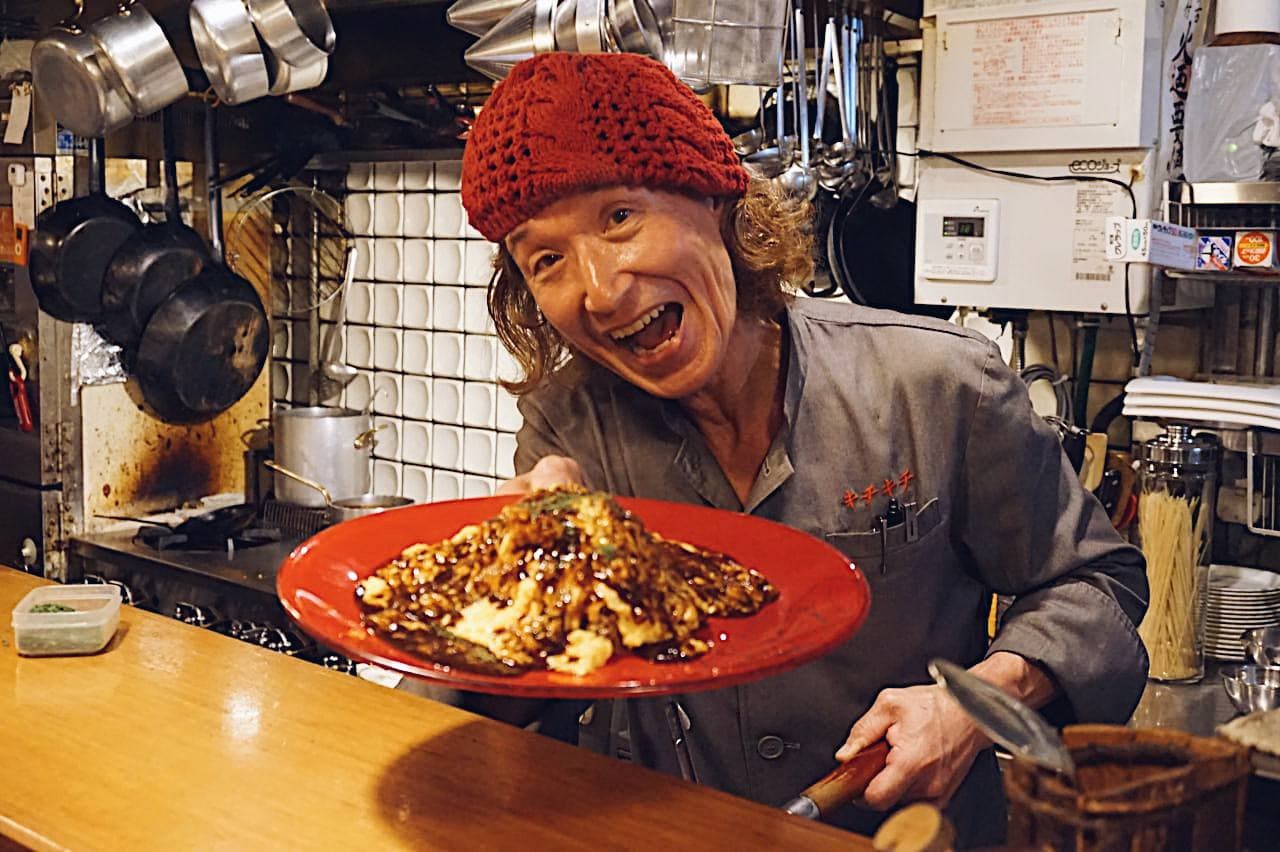 We made a booking prior the trip to try out the Kichi Kichi Omu Rice, because she wants to and this Chef actually became really famous on social media over the years with his mouth-watering Omu Rice, and we're here to find out :D We are actually here way early, and we decided to take a walk around the area before coming back again. Still, the first few ones who're here, we looked at one another awkwardly as there's another pair of travellers who are armed with a DSLR equipped with a huge lens.
I wasn't a writer nor a vlogger back then. So it's funny looking back at the time because little did I know I'll be doing this. The chef came out, greeted us casually, and went back to the kitchen area, as we are gestured to sit in a row just right in front of him. Since we're here first, we just walked in all the way, taking the seats at the sides, but that still gave us a pretty good view of the whole place itself.

We were given the menu and was reminded that we have to order an item each, so after discussing we decided to NOT order 2 Omu Rice but decided to go for 1 Omu Rice and 1 beef stew instead. More people come in along the way and from their looks you know they're either food bloggers or travel vloggers. Armed with cameras, mini tripods and at least a digital cam, they're here to take serious content. And here I am, still preferring to travel with just an iPhone for contents despite having tried using a GoPro, a Gimbal and an Osmo Pocket.
It was pure theatrics, as he's constantly interacting with us in Japanese and simple English, counting down to the huge breath of flames firing his wok, tossing the egg at an angle and catching it with his plates. It's really entertaining to watch as every one of us watched in awe as he prepared food for all 8 of us.

The huge highlight would be him preparing the Omu Rice, where he'll cook for all of us at once, before preparing the eggs one by one, tossing some, cutting some as we watched in awe while the water part burst open after the egg splits. It was almost too perfect, each one timed out, every egg cooked just the right amount. It felt like he could even do this with his eyes closed.


I haven't been to such a kitchen setting before so it's really new to me. However, I'd say that his beef stew really takes the cake for this one. The beef is utterly tender, the gravy goes really good with everything.
This is probably the most "iconic" meal we have. Overall it's an amazing experience for us definitely, even though our wallet took a hit from this one. Pricing wise this isn't under the spectrum of affordability, but if you wanna give yourself a treat, don't forget to go for the beef stew!

We took a walk across the Kyoto River again, this time the sun has set and it's all dark now. The dim lights set a peaceful tone across the place, and I can still see people hanging out by the River. I gave the place one last look before we head off to Kiyomizudera!
*
Name: Kichi Kichi (キチキチ)
Address: 185-4 Zaimokuchō, Nakagyo Ward, Kyoto, 604-8017, Japan
Opening Hours: Reservation Required
Lunch: 12:00~13:00
Dinner: 17:00~20:00