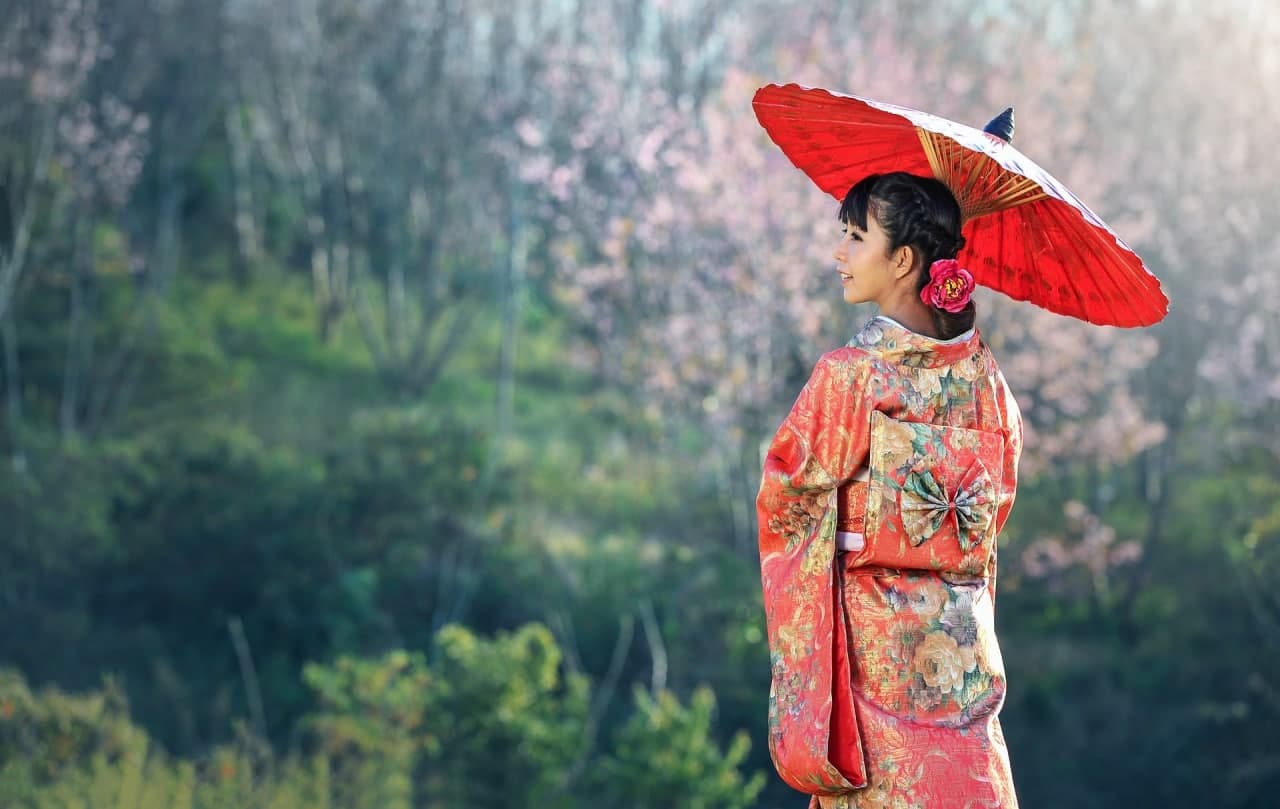 Being a young and free spirit, Kyoto is a girl that would make the perfect plus one on weddings and family dates. Her hair goes into a ponytail which ends with a beautiful curl. Her Kamo-gawa ribbon holding her ponytail trails along her back, drifting with the wind. The front of her hair cuts neatly to the sides as you could spot her occasionally sliding her fingers to set her fringe behind her ears.
Kyoto has just about the most UNESCO World Heritage Sites; a whopping 17 where you could spot most of them embroidered beautifully onto her kimono. With the bangles of Fushimi Inari running along her left arm. Her Nijo castle bangle was under repair the last time I went. However her Kiyomizudera's bangle will light up some days at night and the dazzling streaks of light will shine across the streets, people coming together, celebrating the occasion, admiring the beauty of the temple halls and architecture. She cooks too! Her Kichi Kichi beef stew would warm you up in the middle of the night if you could never sleep.
That day, we head up to walk through the beautiful Shinto gates of Inari, and admire the beautiful architecture of Kyoto River, before she made me her trademark stew and her Kichi Kichi Omu rice. We then hike up the hills of Kiyomizu, and we admire the fluttering city lights of Kyoto at the very top.
Before we know it, it's time to go. How fleeting beauty is sometimes.
The bus won't come until awhile, so we decided to spend the last 30minutes playing Pachinko together. We shared a machine, while we take turns to hold the knobs while exchanging squeals and delight at the flashing neon lights. We played till the last of the pachinko balls, and I know I have to go. For there are more adventures awaiting us, for we will see each other again.
The beauty of passing could never be better used here, in the poetic city of Kyoto. Even though we didn't spend a lot of time together, the thought about Kyoto would always light up my eyes. Just like how the Kiyomizudera light up every now and then as if a flower blooming in the night. 
*
Kyoto walked me to the bus interchange when it's time, I could see the bus beaming up, before moving lazily towards the berth and coming to a slow and exhausting halt. It's tough running on clockwork, I bet.
"Umm... Ron-san", Kyoto said as she held up this little trinket, as if conjured out by magic. 
"Hello Kyoto", I said, smiling. Part of me couldn't bear to leave, for there's so much more to see with Kyoto.
"This is for you!", she exclaimed as she held up! "For good luck! It's like a lucky charm and he will protect you!" she continued.
"Thank you!", I was surprised to received a gift for I have nothing to give. "Arigato again, Kyoto", I managed with my delicate Japanese.
"It's okay! take care of yourself" Kyoto replied. 
"mmm", I held tightly onto the trinket, maybe it's the cold, but it is nice to felt the warmth inside spread across my body, as if like magic. "I'll bring him back to you soon okay!"
"Soon!", she smiled. I looked at how her eyes twinkle for abit before disappearing under her eyelids.
*
I got up to the bus, and I see Kyoto still there waving, as the bus lazily move off in reverse, before going straight off into the asphalt. I'm on my way to the next place now...
But I'm pretty sure I left abit of myself in Kyoto, as hers with me.
I'll see you soon again Kyoto (: