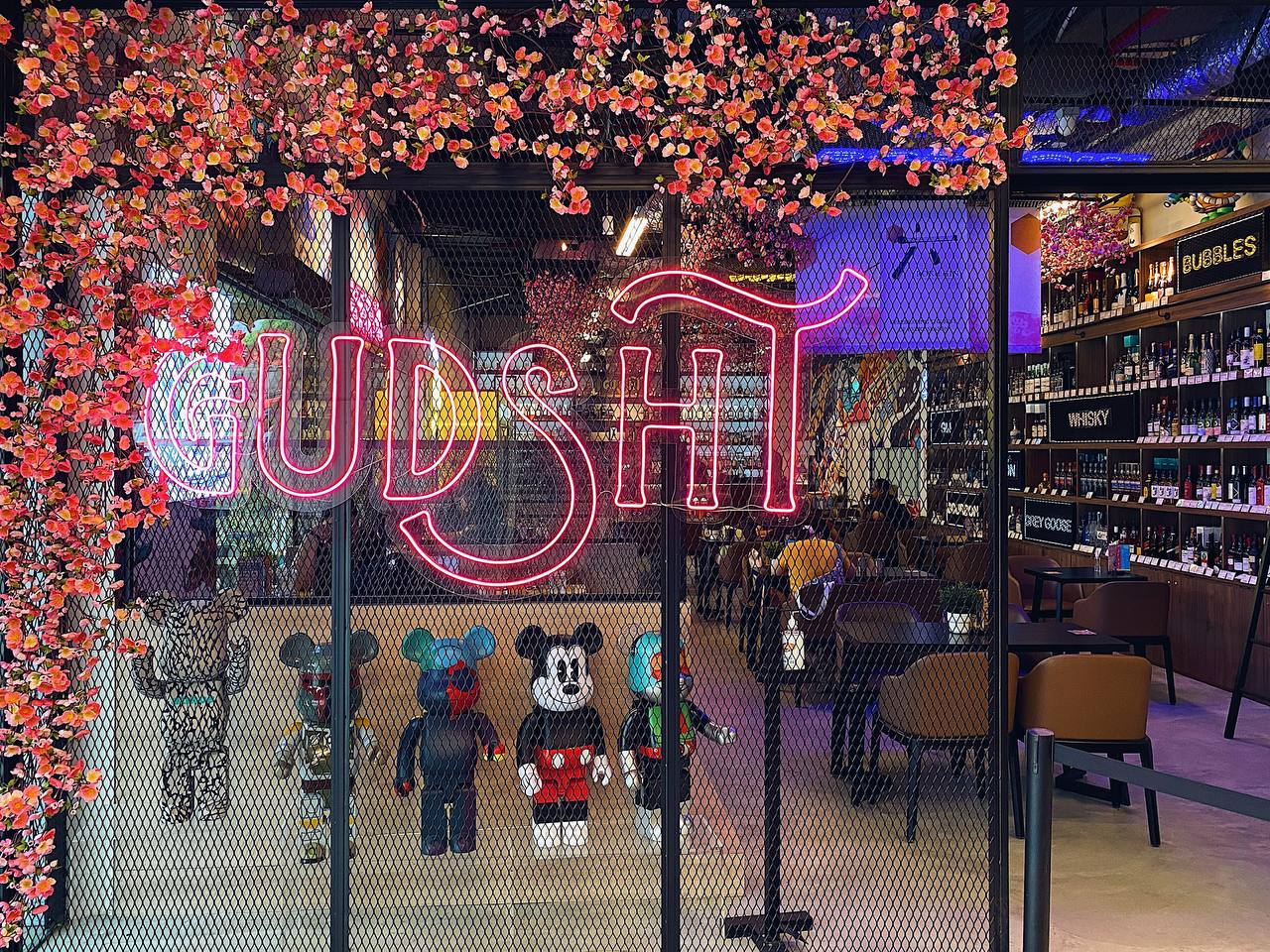 "Woah, this looks cool"
"Look at all these toys"
"Is this a drinking place?"
We peered into Gudsht with curiosity as the decor of the place made us take a second look. (We actually didn't even notice the name of the place at first until we were inside). They have a really attractive lunch promo (which was sadly on the backside of the signage), so thank god that we went over to take an extra look as we were looking for a place to get lunch.
Aside from the really cool and chill set-up, I like how they have "working stations" at the sides. I call them work stations as they are really comfy booth seats which also come with 2 adapter plugs for you to charge your electronics while you do work.
I got the karage don and the seaweed truffle fries. While my friends got a variety of skewers and noodles/rice. They have a really value for money beverage/soup option ($1 for each, up to 2). So you can go for a can of coke and a miso soup, giving you some really affordable liquid options.
The serving is very decent as well, though I wish or thought the portion of the fries would be bigger from the photo. They're definitely addictive and I kept going for more. The karage isn't shabby either and the meat is really huge. The generous portion of rice makes it filling as well. The flavours in general are really rich (or salty for some), so the beverage option really does come in handy.
We take our time to have our meals, chatting while eating. It was comfortable to hang out as the volume of the music aren't too loud, and we can manage while not meeting to speak loudly. There are people doing work over a bottle of liquor, taking occasional sips every now and then. It was definitely quite an interesting sight.
I'd think that Gudsht is really underrated and affordable. With a decent ambient and a striking aesthetic, I won't have thought it'll be an ideal place to work if I'm ever in the Orchard-Somerset area. I'd think that this is a place that gets really vibrant and crazy at night with all the alcohol that they're selling, but come in the afternoon and you'll find this the perfect places to dine and hustle.
*
Details
Name: GudSht
Address: 8 Grange Rd, #01-04, Singapore 239695
Opening Hours:
11am–12am
(Website)