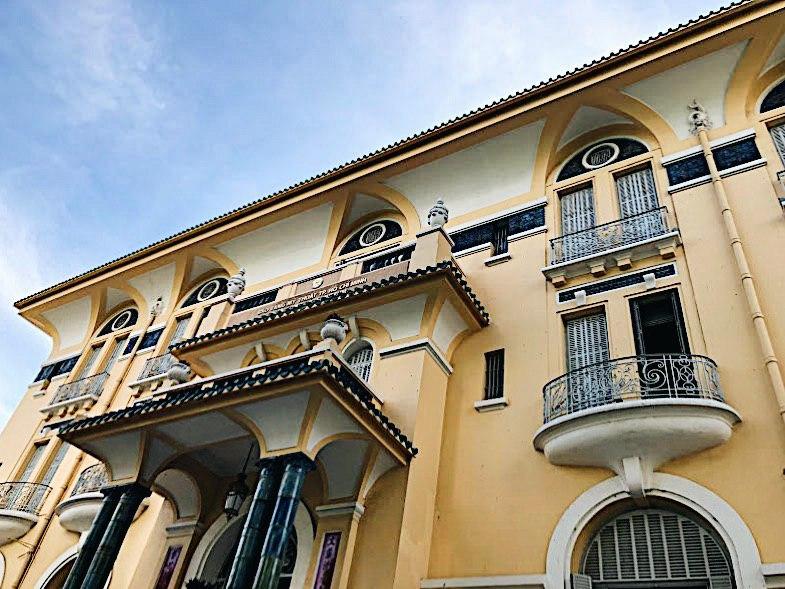 Fine Arts Museum of Ho Chi Minh City
As a lover of arts, the Museum of Fine Arts is a MUST GO for me, so art lovers alike, please do make sure you make time for this. I already zoomed in on this place prior, to my trip and I was so down to check out the art scene of Vietnam, and it is one of my most fruitful highlights of the trip.
This place is really huge, and it is larger than I thought. Behind the beautiful 3 story decor of a vintage museum, complete with a retro elevator, you'll find yourself wondering at the backyard with many other art galleries ready to take your breathe away. The amazing vintage set up really brings me back to the retro era while the whole interior decor leads me across the various timeline of the different types of arts. So make sure you have ample time to stay! It might be advisable to come with a bottle of water to hydrate while you take a break from the heat. 
There's a stairway that links to the basement, where several galleries are there. From the basement, you might be surprised that you're not done yet as you would see the yard area where many other galleries are hidden from outside. Exhibits are mostly sculptures and paintings, so those who're looking forward to checking out some artistic installations might be disappointed. From oil, watercolor, and acrylic, all these paintings and collected and created from timelines beyond our imagination. The sculptures stood mostly in the second and third storey, and the details would definitely blow you away. There are way too many arts to admire, to observe. I would say countless, as I was speechless in all corners. There are some galleries whereby photography isn't permitted, and as you know it, those are the ones with one of the best painting/art.
I even came across a spiritual art gallery and made friends with one of the guys who introduced and told me about this new genre of art that they are creating. It's actually inspired by this unique way of meditation founded by Vô Tận Không. They have a weekly free meet over the weekend (Saturdays), you can also check out their amazing website where they discuss art from a spiritual perspective. These artistic description stood out from the rest and the gallery really drew me in. I found myself inside for around half an hour while reading each and every artistic description available, for each tells a story and for each story shared a lesson for us to learn. I'll insert the website below if you would like to find out more.
The porch/yard area would lead you to smaller art galleries and art centers residing around the compound too! Once we're done with the galleries around the yard, we're back to the main building. Beyond the galleries which circled themselves around the perimeter, the main building has 3 stories worth of art space to explore. Each type of art took up a sectional square space where they are all interlinked together. You can cover them in a clockwise or anticlockwise loop in any manner you wish. I also like how there is almost no one there!
Less than 3 visitors are there and 2 of them are girls who just came over to "gram and scram" the building balcony on the second storey. It's alittle saddening to see them just walked around the main building, without even going out back to explore the various gems by the yard area. I totally love how quiet it is as I wandered around the square, having the whole museum to myself. I took in most of the art, slowly adoring their designs, trying to break down and reverse engineer the methods and also trying to figure out how the artists set their paint, colors, and hues.
It is an amazing experience given the sheer amount of galleries and exhibits, you can no doubt spend hours getting lost in the various type of paintings. It's just way overwhelming. I left the place still feeling overwhelmed. But I'll definitely drop by again whenever I'm back in Saigon.
*
Details
Name: Hồ Chí Minh City Museum of Fine Arts
Address: 97A Phó Đức Chính, Phường Nguyễn Thái Bình, Quận 1, Hồ Chí Minh, Vietnam
Opening Hours: 8am–5pm
Entrance Fees: 30.000VND