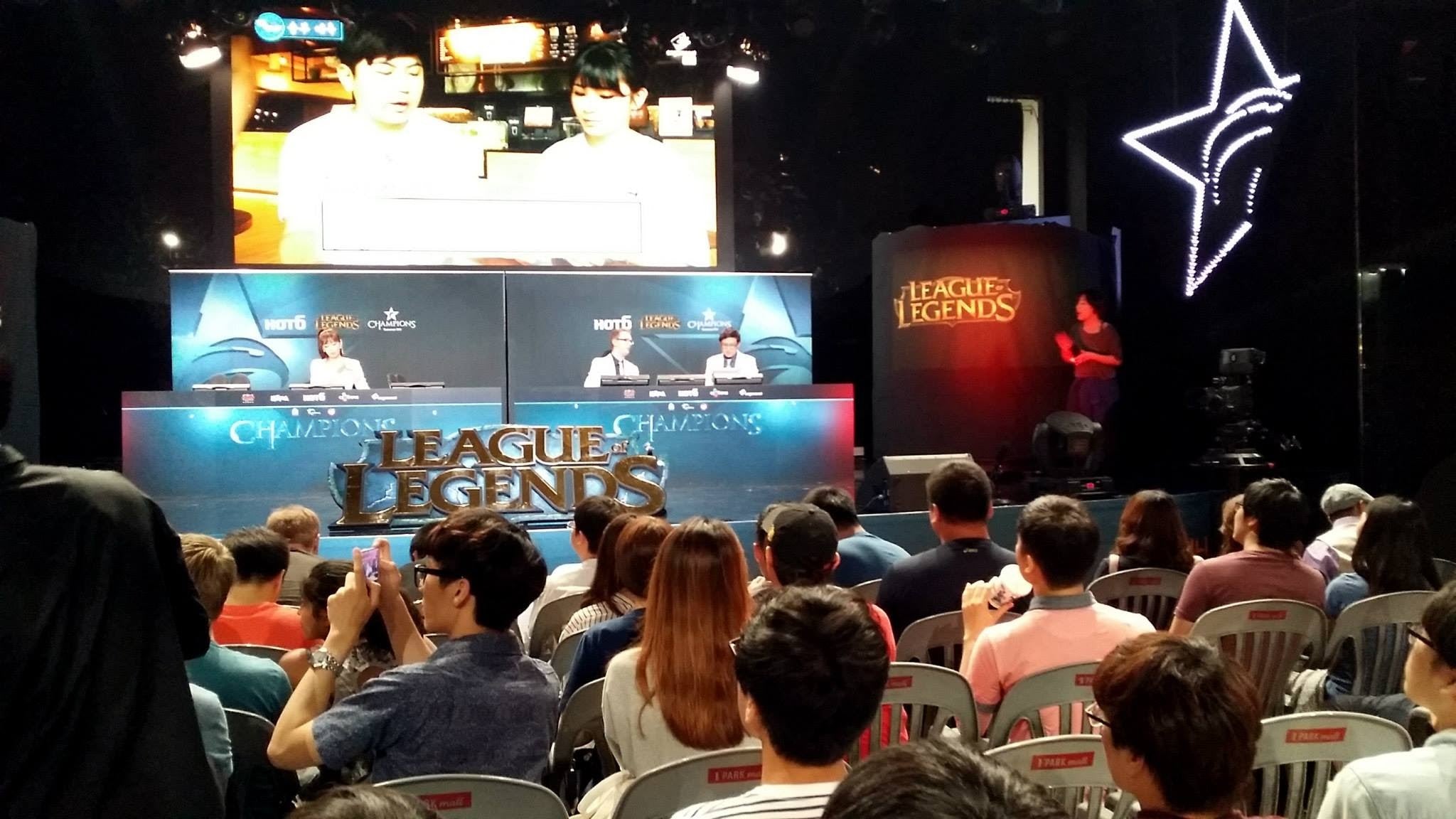 Watching LCK E-Sports in Seoul
It was truly a remarkable experience.
As a fan of League of Legends, my boys and I are regular players.
(I play support if you have to know)
We climb ranks, disses players in ARAM, stayed up late just to get that brand new summoner's icon.
That's us.

As regular summoners of the rift, we then head to the "E-Sport Stadium".
LCK, usually known as League of Legends Champions Korea (Hangul: 리그 오브 레전드 챔피언스 코리아), is the competitive scene of the game.
Numerous teams battle it out to get placements, to fight for the throne, and the "seed" to be able to play and shine on the world stage.
Upon reaching the e-Sports Stadium, it's a huge space, with food, shops and everything.
It's similar like a giant mall but instead of housing a cinema at the highest level, above seats the portal to the rift.

And here is why you should definitely go watch a live LCK League of Legend Match. 
If you have some time to spare in Seoul
/ IT'S LIKE A GAME-CON
Summoners gathered there, and it's like a game convention when its hall unfolded right in front of our eyes.
Cosplayers, fans in League of Legends T-Shirts and geeks
/ CULTURE SHOCK
The craziest culture shock we had, is surprisingly the girls there. There are a lot of girls. And I daresay they even queued early to snag front row seats.
The best part? They're not there for the games.
I was really lucky to sit beside one who just screams, squeal and have her phone recording her favourite player through the glass panel.
And she didn't even have her eyes on the game screen. No kidding.

/ THE AMBIENCE
The cheers, screams, the commentator shouting at the top of his voice as the carry dies trying to gun down the fifth member of the opposing team.
You'll get to feel the crazy ambience of the competitive scene.
It's pretty priceless.

/ PLAYS. GAME PLAYS.
You'll watch players pulling off crazy stunts and achieving amazing feats.
That combo that you never know could work, the crazy chain skills that nailed the game.
All of that unfolding live on that big screen.
You'll also definitely learn something out of this.

/ YOU'LL GET TO SNAG A PHOTO WITH YOUR FAVOURITE TEAM
This is actually one really sweet bonus!
Knowing that we're from overseas, they actually even spent some time talking and hanging out with us.
And yes, we snagged quite a bit of photos.
(We're such nerds)
For the Details
Address:
Name: OGN Giga Arena
Address: 14F S Flex Center, 31 Maebongsan-ro, Mapo-gu, Seoul


UPDATE:
As of 2018, It has been moved to LOL PARK
Address: 33 Jong-ro, Cheongjin-dong, Jongno-gu, Seoul, South Korea
Located in: Gran Seoul

Useful Links:

How to get to the LCK arena, Lol Park
Riot Games Reveals New LCK Esports Stadium, 'LoL PARK'!
​