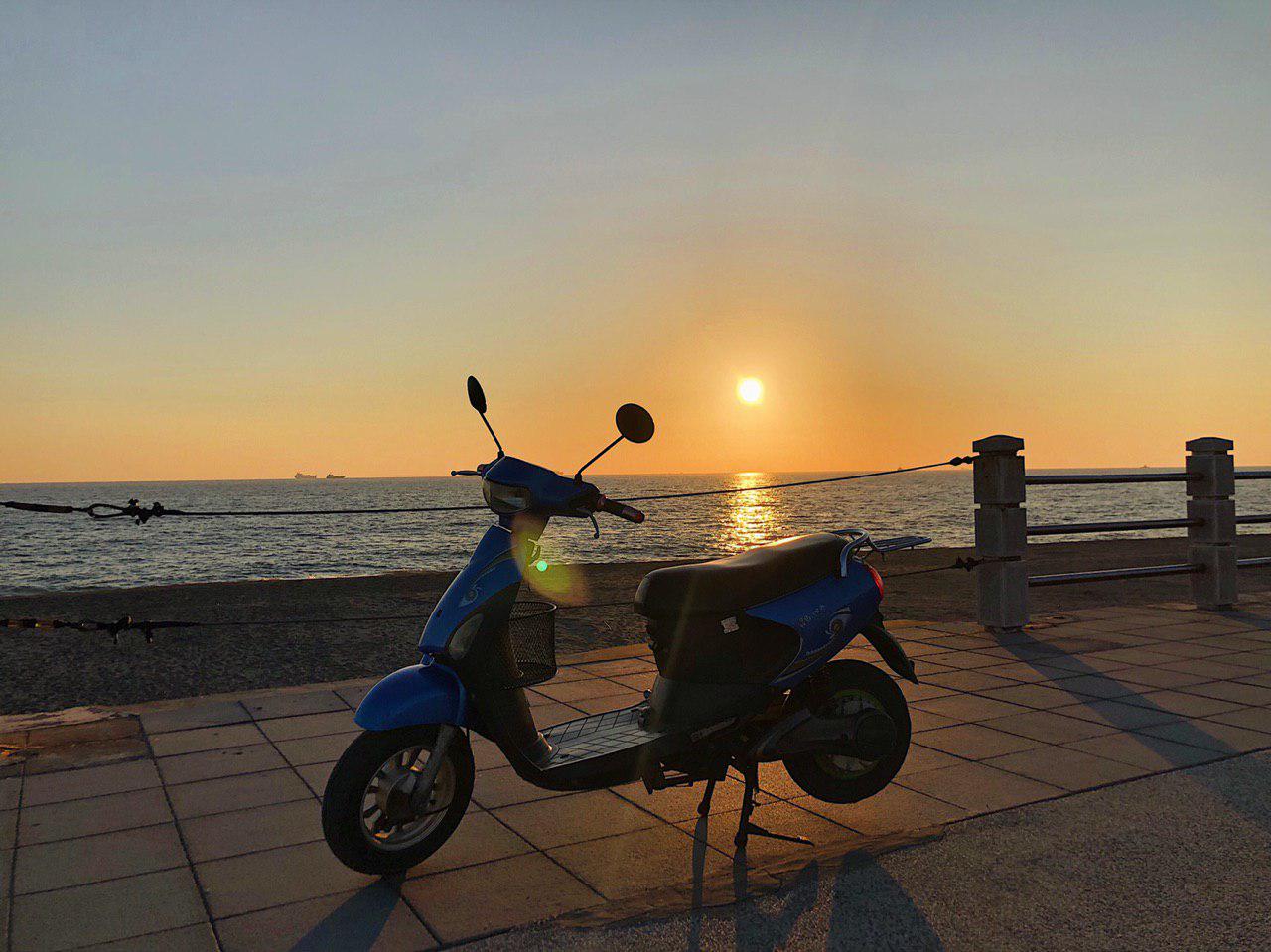 I wanted to get this down as soon as possible. Before any of the feelings faded, before I forget anything. Do you know that we forgot most of our dreams when we wake up unless we note/write it down?
This is one of the moment, and I'm clenching on it as tightly as possible because I don't want to lose any of it. And here it goes. Before I move on, there's a track that accompanied me during the sunset, and here's a link for you.

https://www.youtube.com/watch?v=Z6I2DaU6LOE
If you're ready, let's go!
I headed over to Cijin after a long walk towards the ferry terminal. Since it's a weekday, not a lot of ferry terminal is open. I manage to get there anyway with 2 hours to kill. I initially thought of crossing off several attractions that are walkable, and that's that.
I wasn't… say a guy who's too good at taking risks.
I decided to take it anyway. After a 5 minutes crash course and a map, my adventure is about to begin. I chose a blue bike however it won't start, so after fiddling, the owner asked me if I would like a bigger bike. She said that she'll guide me and asked me to try going. And after I move off, she bid goodbye and asked me to ride safe.
"That's it?!"
I shouted goodbye without turning back as I was trying to navigate on the road.
I adjusted my rear mirror and dart my head both was as I was weaving across traffic. The traffic condition in Cijin is little ghetto-ish, with bikes, scooters, and cars everywhere.
I got more confident after the first 20 minutes and before I know it, I even rode through the grass patch onto the pavement as I really wanted to ride along the beach.
I was probably the only weird who did that.
I rode on, slowly of course as I tilt my head and look at the Sun as if the Sun's my parent who's guiding me the first time I'm doing two-wheelers. The fresh orange stretches across the horizon as if my mother's loving arms.
I smiled to myself and rode on. I didn't visit the attractions, instead, I just stop and go after snapping some photos and footage. I didn't want to waste any of my precious riding time.
And the sun begins to set as I rode along the beach. The feeling is actually pretty weird and different. You know how we always watch the sunset, just sitting there, watching the world pass? This time it actually felt like I am riding alongside with the world as it passes.
I even manage to get a kind uncle (there are not many people along the end coast of Cijin) and after asking, I decided to try making it to the very end of Cijin's pavement before turning back.
The sun didn't wait any further before hiding beneath the mountains and horizon. And upon hitting the horizon, the colors splashed across the skies, as if an experienced fisherman casting his net out into the sea. The net opened wide as the colors stretch as far as I could see. I saw the glow changes in intensity as I rode alongside the beach, chasing the Sun. 
The skies turned slowly into darkness, as I find myself having to switch on my headlights to guide myself back. As if the second net of darkness covered the skies as I could see it sank the city into a greyish hue with a touch of the ocean's blue before it turns dark. 
I was 3 minutes before schedule, and the lady smiled at me before asking me how's it. I laughed awkwardly and said I could use more getting used to, and recount the story where my map was being blown off.
I look through the photos that once again did little justice to the scene itself.