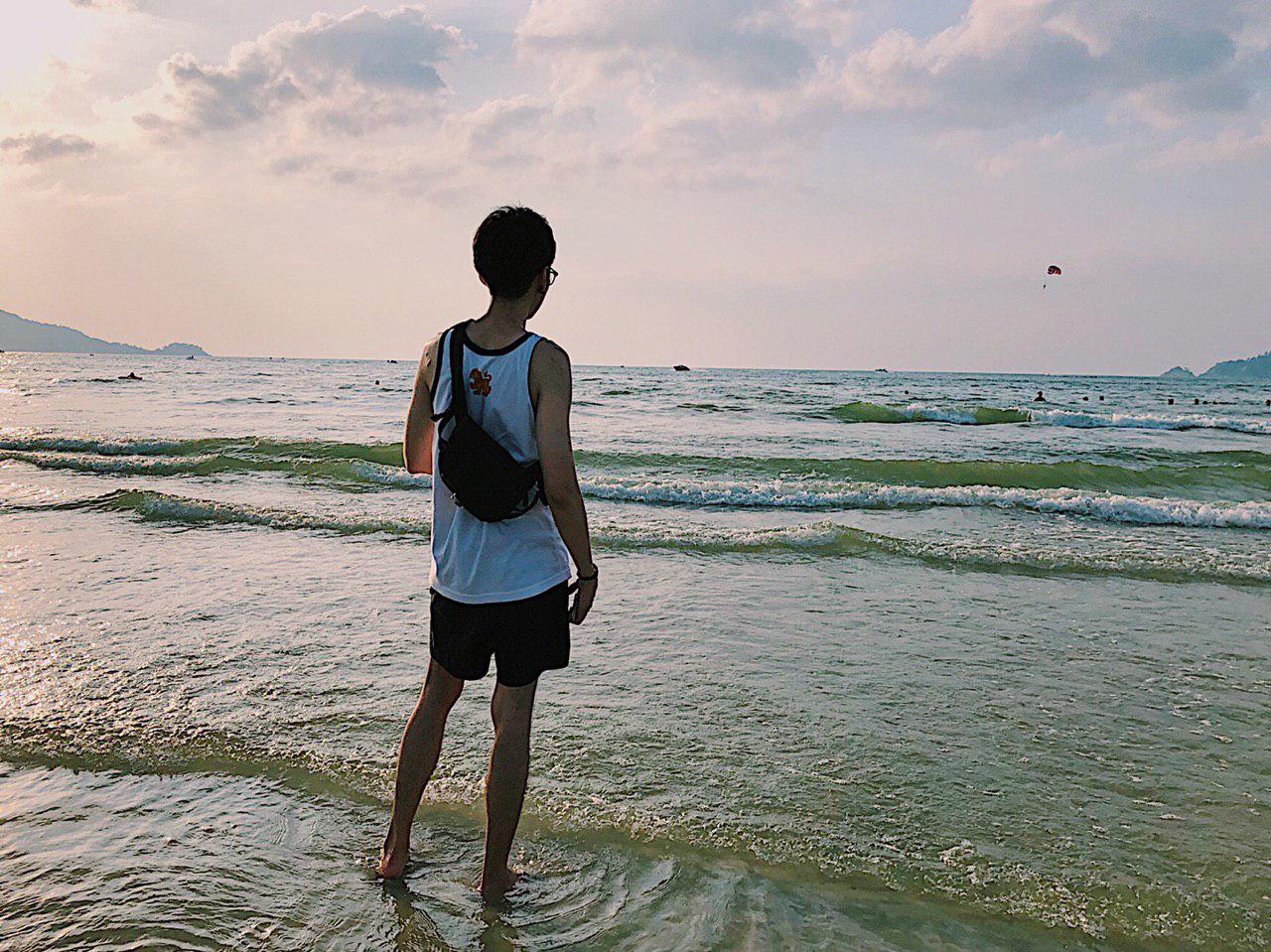 My elementary school friend took me on this unforgettable journey to Phuket to commemorate our 15 years of brotherhood and friendship.
What started out as a Bali-replica turned into an amazing 4-day journey.
As a utilitarian myself I'd never seen myself enjoying lazing at the beach.
Our first day began like any other except we're so psyched during breakfast at McDonald's.
*
"OMG we are finally going overseas!"
Thanks to KLOOK, transportation from the airport to our accommodations were straight forward and can't get any easier.
After booking, someone would be holding your name right outside the entrance so you can't even miss it.
We're bought to a waiting area to sit around for 15 mins while arrangements are made for the driver to pick us up.
We snagged a unique triangular sandwich there, Aaron's recommendation, which much to my surprise is really savory.
How can anyone resist a hot soothing tuna salmon mayo wrap?
It took us about an hour via car, though it was mostly just us looking out of the window and texting on our phone after we got our SIM set up.
Our accommodations, Lub'd is beyond my expectation by a whole notch when the lively common area is just too cool to be true. It seemed like an office of a cool startup. The people are friendly, and everyone there just seems to be rocking them good vibes.
We start off our first meal at the NO.6 restaurant where we met a couple from Chicago. We exchanged culture and food briefly and we shot them places of interest in Malaysia and Singapore.
I figured we kinda had a good start.
After a round of beer and cheers, we head towards Patong beach.
Krathong is special. An annual event. A tradition. And we're grateful that we're able to experience their culture even though it's a mellowed down one.
There isn't exactly a timing but it's still worth the wait when the concert blared Patong beach to life. People and colorful vehicles paraded the streets while local dance along the pavement. It's fun and beautiful even though the waves aren't that friendly when we all set our Krathong.
Instead of setting off at the river, we set them off to the waves in Phuket only to find them being engulfed within minutes. I had fun throwing mine out to the sea while shouting words of prosperity.
We ended the day with McDonald's before dropping by Soi Bangla, one of the liveliest streets in Patong.
*****
Day 2 is relatively chill as we did our brunch at Jungceylon. Which little did we know kept us full till the night. We decided to bring our party up a notch, and we made vodka gummy bears
My appetite strangely isn't aligned with my mood so I settle for soup instead.
The night market is a good go-to if you love variety!
Our gummy bears were done and we bought out the flask for good measure.
Tonight we party. I'm so high and my extroverted self came out before I could even contain myself.
I could talk. People don't seem that scary after all. And it's fun making conversations as we go.
I made friends with the (little did I know, supervisor) of Lub'd and to my amaze, graced us with a spot for QURO's sticker.
After some pats and handshakes, we decided to exchange contact to keep in touch. It's one of the most meaningful connection I'd ever made, probably with the help of the vodka.
We then head out to the streets where we meet more people, dance along the streets, I was having a good time. We then met this funny guy with legit street creed where we give cigarettes and he tried to return the favor by introducing girls.
*****
Day 3 is amazing as this trip only gets better and better.
We had a day lazing in before waking up to get the sun, we head out to the beach after lunch where we had an amazing fish and chips at the Oasis. We bought back Pad Thai, while we watch Cock Fighting on TV in the comforts of Lub'd. I even IG-story it and took bets.
I decided to try out back massage, and returned as a happy man (without a happy ending) I would rather have 2 rounds of massages than that hahaha. And we had a great night drinking by the poolside of Lub'd.
This is surprisingly the night where I skinny dipped in the pool and did pull-ups on the ledge of some wall.
*****
Day 4 left me feeling a little sad as it marks the last day of our trip.
We had an evening flight, so we're supposed to head off in mid-noon.
We kicked started with coffee and breakfast from iKroon, which requires some walking.
Head back to try out Thai massage while my buddy chill by the pool. We regrouped after to shower before getting ready to leave.
We met Danny, our designated driver who shared his stories with us along the way. He lived in Krabi with his family and he's a law enforcer. He even shared stories from his drug bust shootouts.
To think we were thinking of giving cigarettes to him.
We hid our cigarettes in shame, thank him and bid him goodbye.
I'm glad we exchanged contacts though.
I'll leave Mr. Danny's contact at the bottom, and it will be amazing if you could let him know you know him via us!
(Ronnie & Aaron)
Cheers!
*
Driver for Phuket/Krabi
Name: Danny
Number: +66 92 435 2519