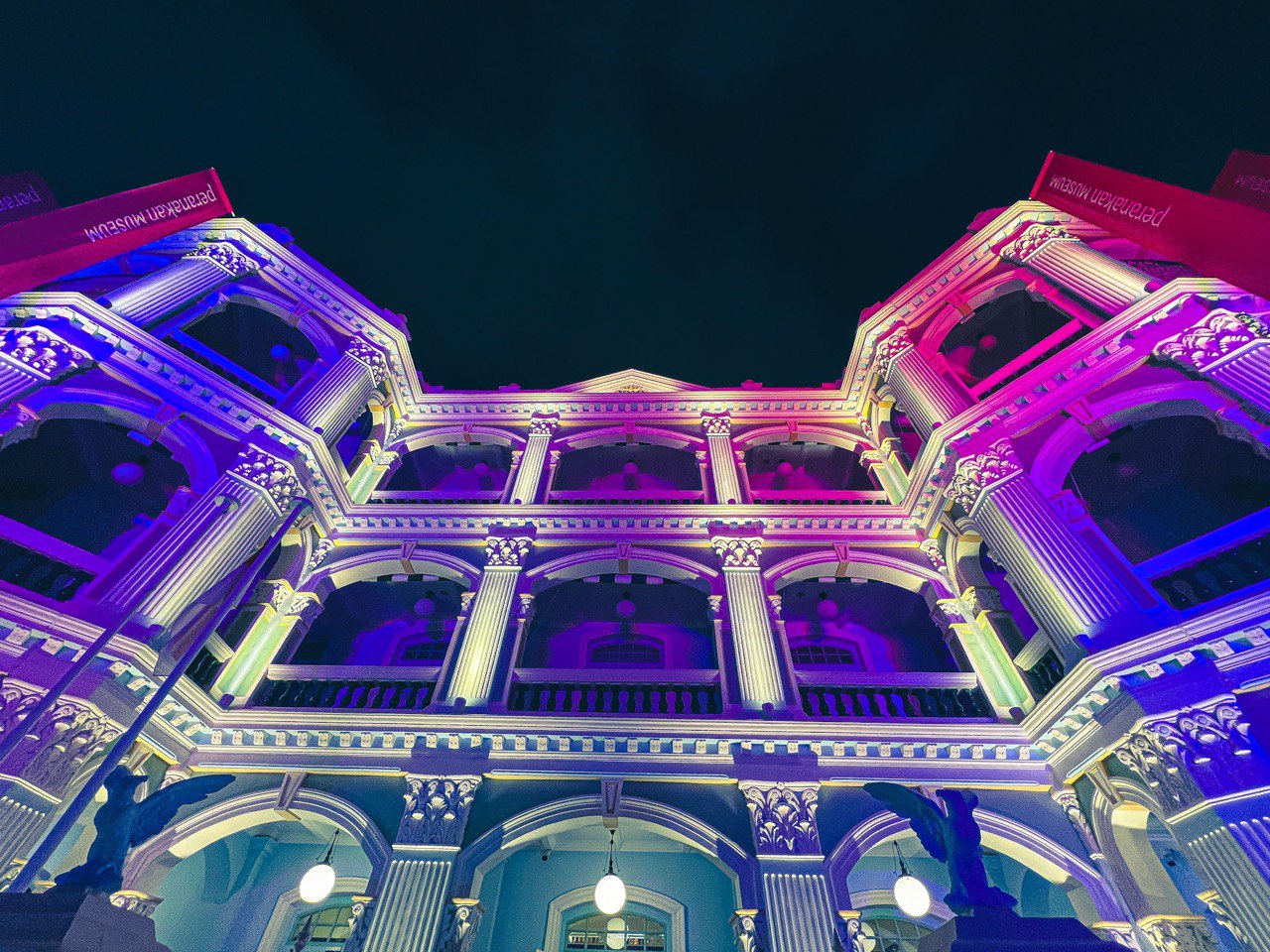 Peranakan Museum Singapore
"I haven't been to the Peranakan Museum in years, especially not after their revamp.
Entering Port City 2.0 during the Night Festival felt like stepping into a different world. The groovy music and electro beats created a unique community atmosphere. At the time of posting this, I was wondering if it is called Port City because; Peranakan, Malacca, Port? Port City? Leading up to the main attraction, the Peranakan Museum, the lights highlighted the architectural details of the building, giving it a pastel watercolor purple hue.
Perhaps I had forgotten what the Peranakan Museum used to be like, but it now appeared more modernized with its new look. Was it the fresh coat of paint or the additional artifacts? I couldn't quite put my finger on it as I ran my hand along the once-familiar staircase railings. Maybe it's because of the modern way of showcasing; like how digital/technology plays a stronger part in art installations and such.
It had been over four long years, or even more, since my last visit. It felt both familiar and strange, unlike what it used to be.
"Maybe they've improved the air conditioning," I thought, looking around and enjoying the absence of humidity and heat.
The crowd was bustling that day, as museums offered free entry and extended hours. It was one of the biggest art and cultural festivals in Singapore.
Navigating through the crowd reminded me of the days of IT Fairs, where we could barely walk at an average speed due to the congested human traffic. However, the exhibition area felt much more spacious and less crowded.
It seemed like there were more things to see now. The first floor appeared to be better utilized at both ends, and the middle atrium was bustling with activity. And this was only the first floor.
The Peranakan Museum showcased various dining ware, jewelry, and accessories in sleek glass display cases. Portraits and mannequins brought heritage to life, creating a timeless collection. I was delighted to revisit after such a long time.
*
Details
Name: Peranakan Museum
Address: 39 Armenian St, Singapore 179941
Opening Hours: 10 am–7 pm
(Website)