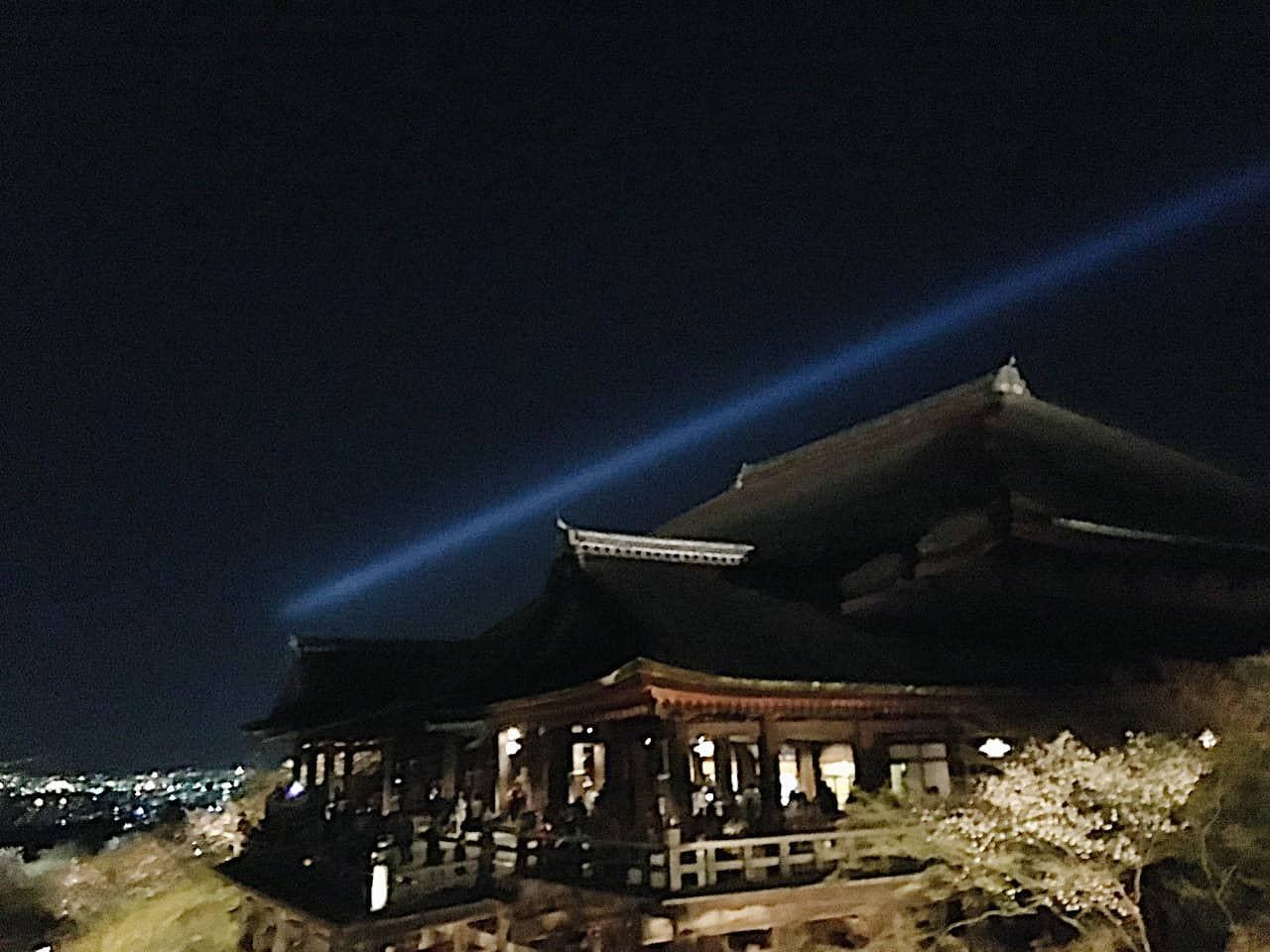 I took a deep breath before closing my eyes and pressing down into the buttons of my stopwatch And here I am again, the nights of April. One of the special nights that I would never forget.

We took a bus towards Kiyomizudera, and Kyoto definitely isn't as convenient as how we are in Tokyo. But still, the transportations are still pretty "Google-maps" friendly. The bus stops are all mapped out, the buses too, so that doesn't make it very difficult to find our way around.

I did my fair share of research only to find out that Kiyomizuderu actually opens at night during sakura season. And I told myself I definitely have to check that one out of my list. I ran by my plans with her, showed her the photos of the night scenes, and I smiled to myself after getting her nods of approval.

And here we are, oblivious on the bus, about the end. Me holding onto her, her using her phone to check the bus stop that we're supposed to get down to, us being a great pair whilst travelling. I took a deep breath again, and found myself out again, back here, goosebumps came over me, and I took a deep breath again, this time nodding alittle harder, trying to stay down longer.

Perhaps this gift could be a curse, on how I could recount just about vividly with some files stored in my head alittle too archivable for my own good. We're there, at our stop, and I could feel myself stumbled behind her, looking up at the night skies.

"There's still abit of walking to do"

We walked down the unfamiliar street, seeing Kyoto wind down, people are returning to their homes and I could see some shops preparing to close. There isn't much going on, the street lamps glow faintly, guiding us on our way.


After a corner, we took a left and start heading up. And we could see as if a hidden matsuri within. A festival that felt just like it's from Spirited Away. It's lively there, not too much of a crowd but enough to feel like enough people, but not enough to rub shoulders.

There are neon pink lights on to add to the effects. We could see the petals of the cherry blossoms falling endlessly across the skies. The shops on our both sides came alive, with souvenir shops, novelty shops to snacks.


We reached Kiyomizuderu shortly after, and we did a time check before we head in. I took another deep breath again. There is a larger crowd on top of here. Perhaps the accessible area isn't as big as how it was in the day, but it is still an enormous place for us to wander around. There's a place for us to get our divination, where I thanked the gods quietly, palms together. The evening air is soothing and clear. Kyoto felt so different from the Metropolis that we came from.

We saw a booth that sells charm as well, there's when I bought a little trinket that spoke to my heart there. Kuro-san, I could felt him looking through my eyes, even the thought of it sends goosebumps down across my body as I speak. He's someone who eventually became my guardian angel and watched over me. However, I'll bring him back home... soon. When I visit Kiyomizudera again.
We walked on after bagging our goodies, enjoying the cherry blossom, taking some pictures. It is however easier to capture them with our eyes of course. We didn't have terrific gears, so we decided to stay in the present to do so. The pinks aren't as alive as they are in the day, but there's just some magic about this place, about how there's life going on in this street, this temple that really does it for me. Years before, this place is probably considered to be a hidden gem; and I'd like to believe that it is still quite off the beaten path still.

I released the button off my stop watched and smile. This is the place that I'll love to write about, to share. And this place absolutely speaks to my soul. Kiyomizudera would always have a special place in my heart, and I'll be back definitely when I'm back in Kyoto.
*
Details
Name: Kiyomizudera (清水寺, literally "Pure Water Temple")
Address: Japan, 〒605-0862 Kyoto, Higashiyama Ward, Kiyomizu, 1丁目294
Opening Hours: 6:00 to 18:00  (varies on festivals)
(Website)