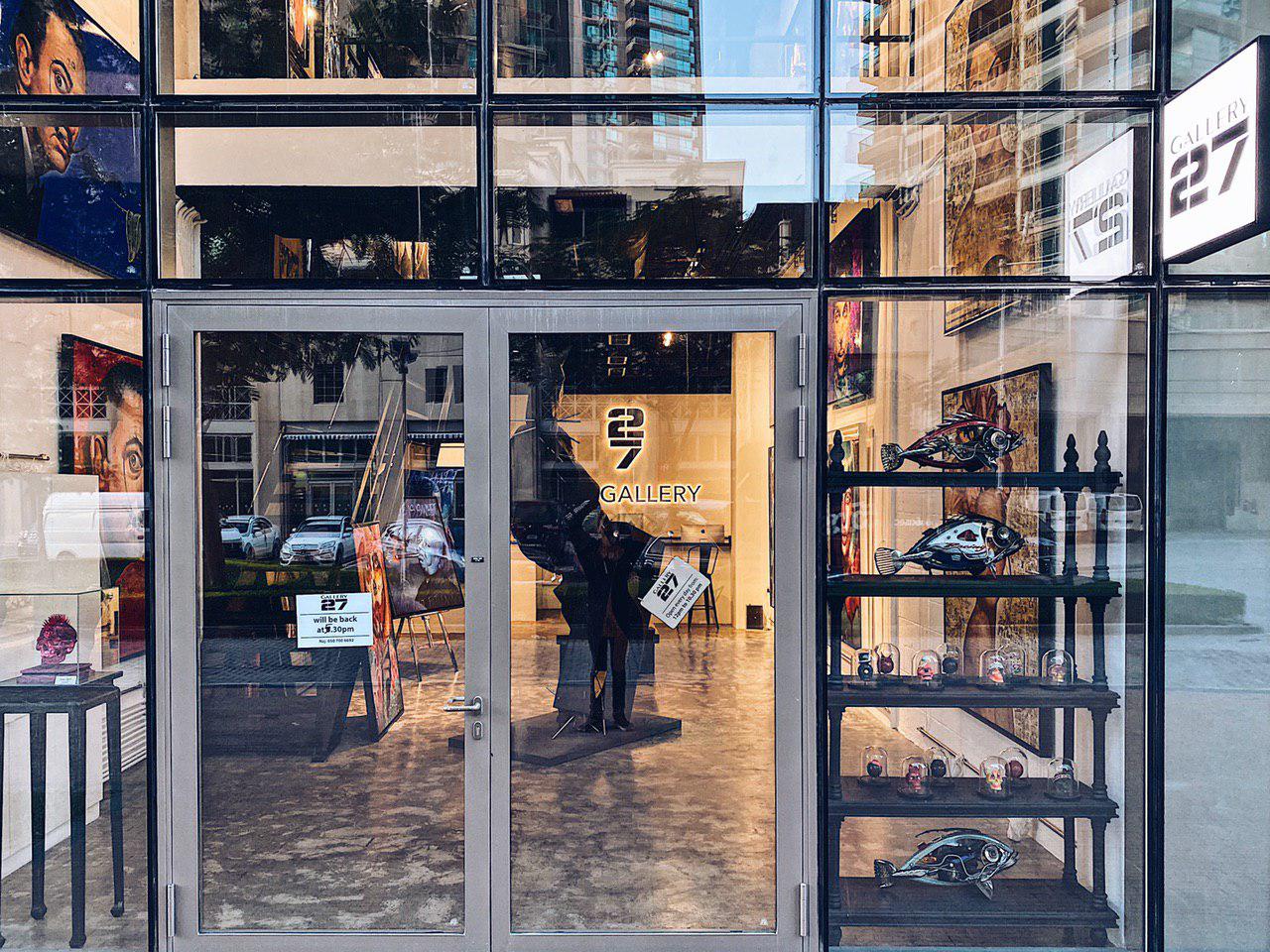 "Be back at 5.30", the paper read.
"Should I wait?", I thought to myself
I looked around wondering if the person is coming back and I paced around outside, with my hand over the back of my head. I looked at the time. 5.32. And I decided to give it another 10 minutes. Before long, Naj arrived, brisk walking over while fumbling her keys and gesturing me at the same time. And I smiled.
I came across Gallery 27 one of the nights when I'm walking around the Marina with 2 other friends, it was perhaps around 8, and they weren't exactly a fan of art when I asked if they'd like to see. I didn't probe after, only to take a mental note of this space to come over another time. The portraits on the walls were the ones that caught my eyes.
I love the polychromatic theme across this lukewarm and cozy gallery space. Across the constraint of the dark hues of the interiors were the dark stairs, the giant Trojan horse which pops up together with the flamboyant art. I am in love. 
I was in a state of absolute stoke when Naj spoke to me, and we did our introductions, while my eyes were all over the place when she is giving me an art tour, picking up all the bits and little information she gave across the canvases. A passionate artist (who doesn't look like it, because she looked really young) with 20 years of experience in this field and she had created numerous amazing art pieces. I'm really glad that we got to connect, and I'd learned a lot from her and hopefully more to come in the coming years!
I love the loft area which oversees the gallery together with the art pieces that were fashion collaborative pieces and they stirred up something in me. Not forgetting the amazing wire mesh art that you should really come to see in real life because it is unbelievable. I whispered to my heart that night, to overcome my depression and transcend boundaries. 
Housing the art style of 8 amazing artist. This artistical cocktail is definitely my favorite here in Dubai, just because of them daring to be different, to challenge and speak through mediums that we don't really hear of. And here's one of my favourite art for you, by Sarah Borderie!
Together with Hiro Hiro Art Space and WORLDART, I tethered 27 to my heartstrings. I even pop by one last time before I left, admiring the arts again, bidding them goodbye!
*
Details
Name: Gallery 27
Address: Marina Gate 1, retail store 102 - Dubai - United Arab Emirates
Opening Hours: 12–10:30pm
(Website)