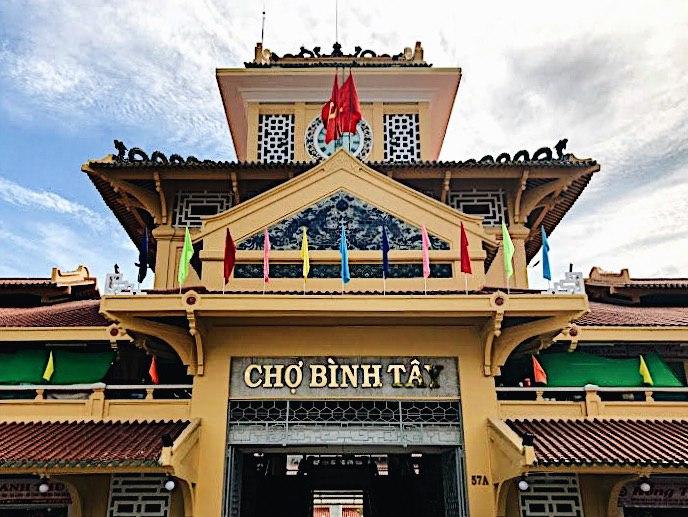 Binh Tay Market was newly "renovated" when I arrived. I used "renovated" because it had received some upgrading and just reopened after a 2-year long renovation project. I was really lucky to be able to catch them within the first few months of opening.


Everything looks really new and slick and I love the bright colors and the flags they put up at the market structure. I'll share a map of the marketplace layout so you can catch a glimpse of how it is like.


This market is unique in it's porch area and it goes in one square compared to An Dong which is more building-like. Binh Tay however have 2 stores and possibly are more diverse in the types of goods they offer, however in terms of designs are relatively similar to each other. There are textiles, utensils, canned food to even household appliances and simple electronics!


At the point of visit, the market looks really clean and new, the classic red in white signboard gives it a very classic touch. You could see locals and tourists both bargaining, and I'd figured most Vietnamese here are more well verse in English. Since it is an open market, it can get alittle hot over in the afternoon, so do stay hydrated if you're here.


Nearing the Binh Tay Market also lies the An Dong Market, and Saigon's Aquarium Street, which I manage to cross off altogether on the day itself, so why not check them out if you'd got time?!


*
Details
Name: Chợ Bình Tây / Binh Tay Market
Address: 57 Thap Muoi, Ward 2, District 6, Ho Chi Minh City 700000 
Opening Hours: 6 am – 7 pm
(Website)