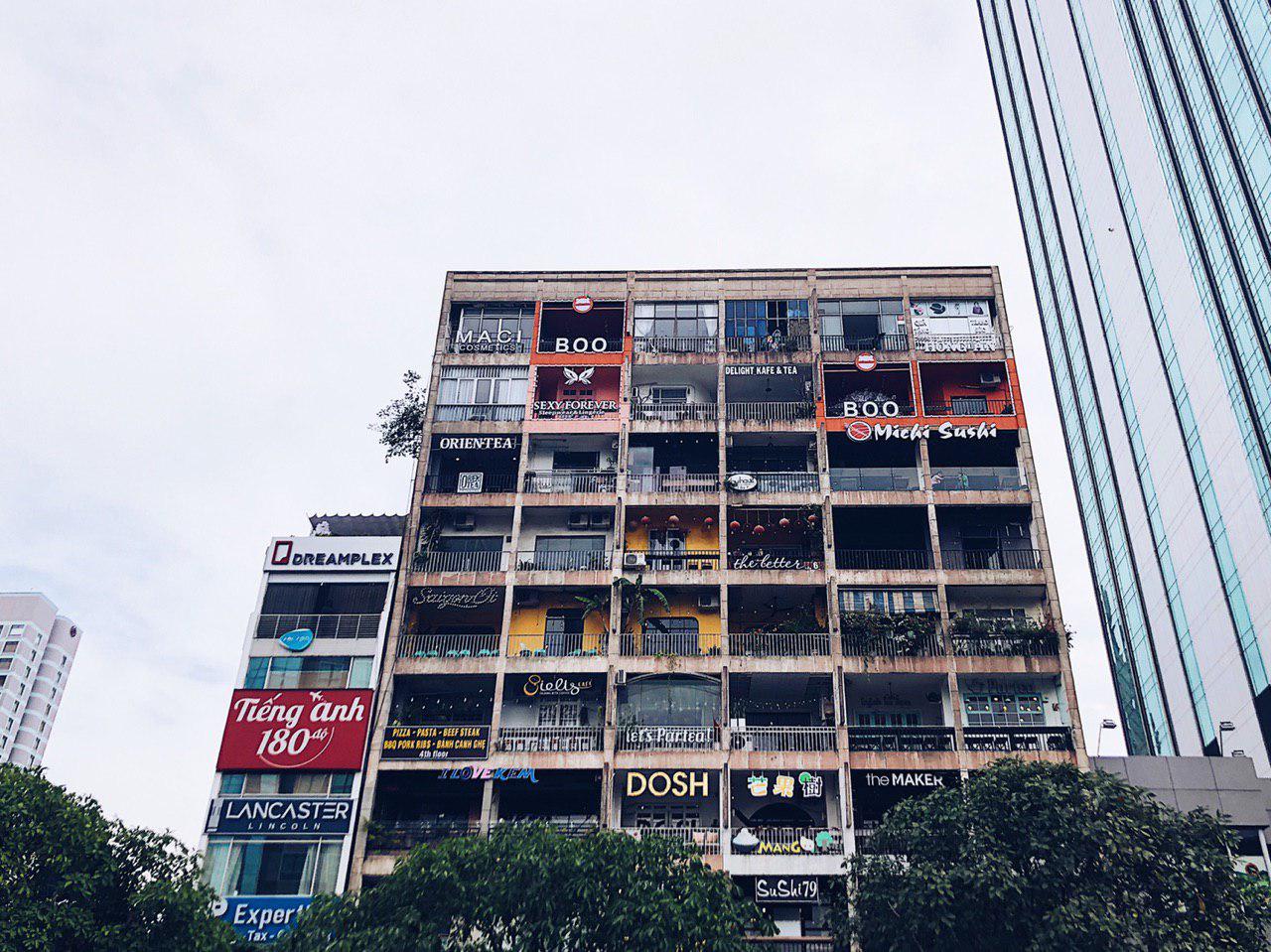 42 Nguyen Hue: Cafe Apartment
Google "42 Nguyen Hue" and you could see it's unique architecture.
This place, was renown for its large collection of cafes with a tinge of hipster's merch, standing proudly along the street of district one.
This building might not look much if you're walking along the street. But if you are ever looking it from across the road, you'll see while. This ancient beauty stood proudly against the sun with urban buildings alike. Not even ashamed of its cubic frame, squarish lots and timelessly stained walls, 42 Nguyen Hue holds more than meet the eyes.


Moving up towards the 9 levels of goodness, this once abandoned building in Ho Chi Minh City seems like a pretty nice candidate for Urban Exploration (Urbex) or Grunge Photography.
Venture into the dark interiors at level 1 and you would be awed. With its dimly lighted lobby with only 1 elevator, most visitors prefer taking the stairs instead. Clothing stores sit at the bottom of the floor awhile cafes spawn all around the rest of them.
One tip is to take the stairs up, exploring each level before taking the elevator down. Another method, of course, is to take the elevator up before exploring it top down.
Well no rules here, but it definitely have to depend on the crowd. There's a queue for the lift ever since 42 Nguyen Hue made it into the internet, so timing might be one consideration.
Moreover, you would meet a lot of locals here too when they are here for their fix of caffeine.
We also came across a pair of Japanese expats who's here to get their "go-to" lunch. Since this place is located at district one, I could totally see why. Alongside us, we spotted a group of a really loud Korean trio who exclaim at almost everything. They seem to be splitting up in every level before shouting back to each other what's on each side of the corridors. We also spotted a solo traveler who's alone to check out the hype of this Cafe Apartment.
We head on up, level by level, where there are several stores that actually stood out to us.
One of them being this Japanese styled restaurant/cafe with its oriental sakura mural.
Before we know it, we hit the top floor. From the 9th story, we're given a pretty decent overview of the city's district. I took a short moment there, also "tagged" the place before we descend down to the streets.
Having checked out 42 Nguyen Hue, it'll definitely be a good place for a food date with its wide array of cuisine (pasta/sushi/ramen) and coffee (they have a lot of cafes) packed with a generous view.
It's indeed a nice place to people watch while sipping a hot americano while mindlessly scrolling social feeds or editing your shots from VSCO.
It might seem a little crowded and noisy to read or write.
*
Details
Name: 
Apartment 42 Nguyen Hue
Adderss: 42 Nguyễn Huệ, Bến Nghé, Quận 1, Hồ Chí Minh, Vietnam
Opening Hours: Varies